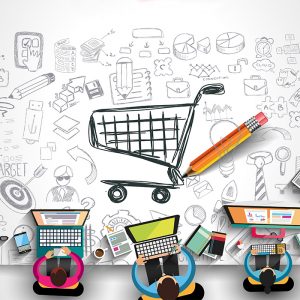 Making E-Commerce Work for Your Consumer Electronics Brand
Selling Your Consumer Electronics Brand with E-Commerce
Ah, e-commerce. All of the joy of shopping with the added bonus of browsing on your couch in your pajamas. E-commerce has taken the world by storm, and it's clear why—online shopping is quick, convenient and puts all of our favorite stores in the palm of our hand. With worldwide e-commerce spending projected to reach $27 trillion in 2020, the most successful brands of the not-so-distant future need to have a good handle on what e-commerce can do for them.
E-commerce, short for electronic commerce, might seem like a no-brainer to pair with your consumer electronics brand, but do you really know how to make the wide world of e-commerce work for you? Here's how to earn a cut of those trillions of dollars.
A Tech-Savvy Demo
Chances are, if you're selling awesome consumer electronics, your target demographic is people that already use consumer electronics regularly (that aren't nearly as awesome as yours, of course). As much as we love all the tech-savvy grandparents out there, this demographic will most likely skew a bit younger.
A 2013 study reported by Business Insider broke down who's spending their cash online and how much time they're online. The average Millennial spent almost $2,000 that year online, and unsurprisingly, came out on top in time spent online with the average user surfing the web about 1,200 hours a year. We'll do that math for you: 1,200 hours in a year comes out to almost 24 hours a week. That's a full day a week looking at a screen.
Even the most dedicated loitering suburban teenagers aren't spending 24 hours each week shopping in their local malls, but your demographic is spending that much time on your selling platform. Embracing e-commerce puts your brand exactly where your consumers will see it. Find out what sites your ideal customers are spending those hours scrolling through and make sure that your consumer electronics brand is one that they see on their news feed.
Make Selling Online Easy
It's never been easier to sell your brand's wares online. Consumers crave easy, breezy, simple online shops and so do sellers. Many of the most popular website hosts allow you to entirely customize the digital storefront on your brand's e-commerce site. We get it, not every employee is going to be a coding wizard or tech god. Choose a website host that gives you maximum control over your online shop and takes little to no commission on your sales.
The world of e-commerce can be intimidatingly vast, but your brand can take it on—and come out on top. Make this multi-billion dollar world work for you.