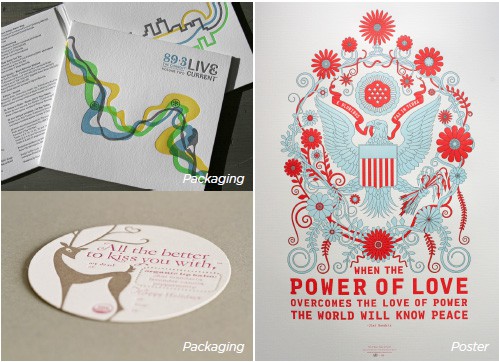 Evolution of the Letterpress
When designing collateral, product packaging or special event materials, the design is only the first step. The second, often-overlooked element is the printing process. The decisions made regarding specifics such as paper, inks, and die lines can make or break the design project. For example, paper color can dramatically change the outcome of a finished piece. All too often, the printing process does not receive the consideration it deserves. It truly is an art form in itself. While many have the notion that print is a dying industry or medium, the print industry in fact brought in over $640 billion in revenue in 2012, and drove $3.8 trillion in related services.
When an artist concepts a piece of work, they have a specific end-result in mind all the way down to the weight, feel and appearance of the final printed piece. When considering the possibilities, how does an artist decide the best printing method for a desired outcome, and how do the options differ?
Letterpress printing is used for projects like wedding invitations, letterheads, posters and packaging materials when a unique, handmade look is desired.
Inkjet and laser printing are most commonly used for personal small volume printing and proofing.
Offset lithography is the most commonly used commercial printing process for the bulk of desktop publishing on paper. Offset lithography is used on both sheet-fed and web offset presses.
Flexography is used for printing on plastic, foil, acetate film, brown paper and other materials used in packaging.
Gravure is used for labels and some packaging.
Photogravure is a process used mostly for fine art prints.
Screen or silkscreen printing is popular for t-shirts, but works for many other non-textile projects such as CDs, vehicle billboards, signs and posters.
How does one go about choosing the right option for the project at hand? Consideration is given to how the piece will be used, as well as the desired texture and the durability required for the intended use of the finished product. When a unique, handmade piece is desired, letterpress is a creative and beautiful end product to answer this need.
Printing has evolved a great deal since its inception in 1444. Today's advancing technologies have streamlined the modern printing process, but sometimes more traditional printing methods are still favored by designers for their bespoke quality. Techniques like letterpress printing have recently experienced a revival due to their unique, classic appeal, and are becoming more visible in the marketplace everyday. Especially sought-after for items like invitations and limited-edition posters, the letterpress process is often used when that special touch is desired for a design piece.
Artists embrace letterpress when printing pieces like business cards, stationery packages, product packaging, posters and calendars. The finished product is high quality, it draws the intended recipient in to touch and experience the piece and it brings a sense of class and uniqueness that offset printing just cannot accomplish. Despite its more classic appeal, the time-tested letterpress process can accommodate features like imprinted QR codes that lead the viewer to a website in order to compete with other printing options in the modern age.
A Brief History Of Letterpress
Letterpress printing is a relief printing process that initially utilized raised metal type and engravings to imprint words and designs on a page. It originated in the 1400s and was the primary form of printing and communication for more than 500 years. For centuries it was mainly used for publishing books, but over time it has evolved beyond a standard printing practice into a desired art form for artists with a specific vision.
Letterpress Today
In the late 1980s, letterpress printing experienced a revival among printers who still wanted that tactile, handmade quality that offset printing wasn't providing. However, it wasn't until the 1990s that it became popular among individuals for their personal printing needs.
Original letterpress printers used a "kiss" method of printing; that is, the press only touched the paper enough to transfer the ink. Modern letterpress users, however, are typically interested in deep impressions in the page — more commonly referred to in the industry as debossing (the opposite of embossing). Debossing makes it immediately obvious that the page is in fact letterpress and not printed by any other means. The appeal lies in the deep impressions on the page as a beautiful imprinted work that provides a tactile experience rather than just a printed page. This quality of current letterpress printing is the primary reason for choosing to print with this method rather than offset. As offset is now the primary printing method for both professional and home print jobs, letterpress printing hearkens back to a time when printing was a craft that took time to create. It is further enhanced by the look and feel of the paper, where quality is key.
Creating Artwork For Letterpress
Creating files for letterpress is similar to conventional printing with these
exceptions:
Ink Color: Files are created using spot colors, not CMYK or RGB. A spot color is specified for each color to use. Typically only one or two colors are used.
Paper Color: Dark ink on a light paper achieves the best final appearance. Inks are translucent and the paper color shows through. To accomplish a product with light colors on dark paper, printers use foil stamping or engraving instead of letterpress. To build color density, letterpress pieces can be run through the press two times using the same color.
Screens: Grayscale images can be used if made with a coarse screen (85 line or less). In most cases, a second color should be used instead of screening a color. Thickness: Art must be above ¼ point and with no new hairlines.
Fonts: Type must be five points or larger for best results. For reversed type, the point size should be 12 point or larger, as smaller type with thin stroke can fill in or plug. An outline stroke is often applied to allow for ink gain.
Solids: Letterpress solids print differently than conventionally printed lithographic solids. While letterpress does lay down a thick film of ink, the process tends to show the texture of the sheet. Solid areas do not give the appearance of depth that fine type and thin lines do. In addition, solid areas can cause the paper to ripple, especially on thinner sheets.
Registration: Letterpress does register well. However, it does not have the capabilities of modern offset printing. Trapping and key lines do not work well in letterpress printing. A blank area should be incorporated between colors. Black and very dark colors may be overprinted over lighter colors.
Depth: The type depth is dependent on the paper. Typically, letterpress papers are thick and soft so the type creates a deep impression. When making foldover items, the printer typically backs off the pressure to avoid embossing the backside of the piece.
Image and File Prep: Letterpress excels at line copy and type, so vector images work well. Crop marks should be shown as a register color. Images need to bleed, or extend past the trim line.
Die cut, Emboss and Scores: These effects work well with most letterpress paper. Images to emboss or die cut are called out in a different color layer (typically magenta) within the design document. Scores are typically indicated with a cyan line. Any intricate shapes or patterns should be reviewed with the printer. For thick cover stocks many printers use a "kiss cut" (partially through the stock) rather than a score.
When creating collateral, product packaging or special event materials, the latest printing alternatives may not necessarily provide the best options. The letterpress process may have changed over its long history, but passion for the craft and meticulous attention to detail remain paramount. This print craft remains alive and well.
Consult evok advertising to learn more about a host of printing options and explore the opportunities and creative approaches available for unique and professional final products.
Examples Of Printed Pieces Using The Letterpress Method