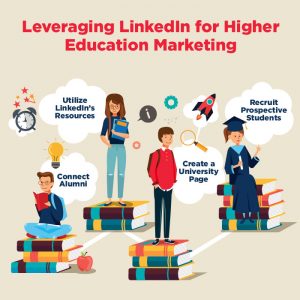 Utilizing LinkedIn for Higher Education Marketing
How Colleges and Universities Can Connect with Prospective Students and Alumni
When it comes to ensuring prospective students, and their parents, can find sufficient information on your school, you want to make the process as simple and accessible as possible. LinkedIn for Higher Education offers universities, colleges and other institutions the ability to engage with prospects, current students and alumni—all in one space. Here's how institutions like yours can make the most of the platform.
Reach Prospective Students
According to Pew Research Center, 95% of teenagers between 12 and 17 years old are online. That means research on what to do and where to go after high school is happening on the web, from social media channels to Wikipedia. As a trusted professional platform most likely frequented by the parents of your prospective students, LinkedIn delivers the potential to be one of the most powerful and reliable resources for forging connections between your school and your future attendees.
Build Your University Page
LinkedIn launched University Pages to create a space for higher education institutions to interact with the right audiences. On your school's page, you can feature news articles, images, videos, job positions, tuition, fields of study, graduation rate and alumni spotlights. Using this tool, any and all information prospective students, parents or alumni need to access is housed on a single platform.
Not sure where to start? Check out HubSpot's article highlighting seven schools rocking their University Page.
Connect with Alumni
Although most schools have alumni associations, there's no true place for graduates to reconnect and interact with each other online after they've walked the stage and received their diploma.
To better connect alumni with each other, and keep ties to your school strong, consider creating an alumni group through your university's LinkedIn page. You can go a step even further and create subgroups for the different colleges at your institution. When properly managed, this can be used as an opportunity to post about upcoming events, promotions and donation drives.
Utilize LinkedIn's Resources
With University Pages, your institution is truly getting a complete higher education marketing solution. LinkedIn allows you to document a content marketing plan, target audiences based on demographics, interests and personas, utilize paid and organic advertising, and measure your results. If any of this is uncharted territory for you, LinkedIn offers a crash course, guides and webinars to bring you up to speed.