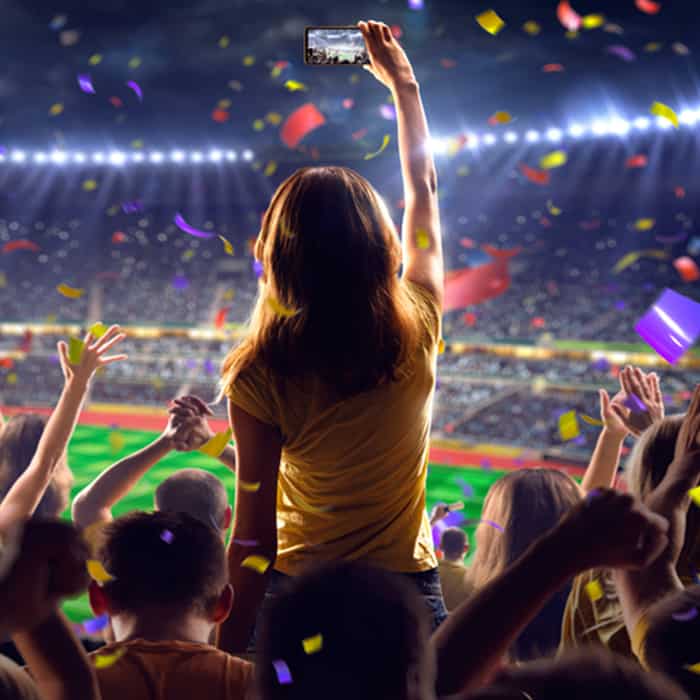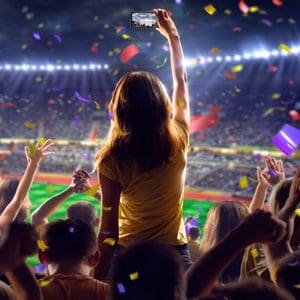 Marketing to the Modern Female Sports Fan
Sporting events have long been seen as, primarily, a man's activity, not only those who participate but also the fans. Research suggests that when people are asked what they think of when asked about sports fans, most people envision several men gathered around a TV or at a sports stadium. Times are changing and women are changing the channel from soap operas to professional sports in a shift that will keep marketers and publishers on their toes. Here's how:
Stereotypes
Sports marketers for years have disregarded women in their marketing efforts; they were not even a thought in their commercials, ads or even apparel. Female athletes are also victims to this stereotype and often do not earn as much money as their male athlete counterparts. An NBA player averages $4.5 million, while the average salary in the WNBA is $72,000. On average, women make 77% of what males make for playing professionally, the same sport.
Many people are noticing and giving women the credit they deserve, for instance in a press conference, tennis player Andy Murray had just lost to Sam Querrey in the quarterfinals at the All England Club, and the question from a reporter started by referring to Querrey as the "first US player" to reach a major semi-final since 2009. Murray quickly corrected the reporter and stated he was the first "male player" not the first "USA player," as several American women have reached this level of play. The reporter had just discounted the fact that a woman had accomplished the same thing as a man.
Women in Advertisements
Male versus female endorsements show that women have been an afterthought; they do not pick up as many deals as male athletes and when they do they are paid much less.  On Forbes' recent list of the world's highest-paid athletes, Maria Sharapova and Serena Williams were the only women to crack the Top 100, racking up $23 million and $13 million in endorsements, respectively. While impressive, those paydays pale in comparison to male tennis stars like Rafael Nadal, who banked $28 million over the last year, and Roger Federer, with $58 million.
Only in recent years have women even been featured in ads and commercials – historically only female tennis players got endorsements. The marketing efforts are slowly moving in the direction of female endorsements due to the realized purchasing power of women who control 80% of consumer purchases. Women also are responsible for growing the active wear market to bring in millions of dollars for retailers.
Women relate to other women that are strong and independent, and when the ad tells their story of strength women are drawn to it. Carl Jr. used Ronda Rousey in their ads and their sales soared beyond what they ever thought they would. Under Armour, Nike, Coca Cola, Adidas, Gatorade and EA Sports have all put women athletes in their advertising, representing them as strong athletic and competitive. They all have realized that their women fans are a huge untapped base of customers and will grow their sales by targeting this market.
Apparel and Mobile Shopping
For years female fans could only purchase merchandise that was made for a man. If they wanted a shirt they would have to get the smallest male size, and the cut was not flattering to the female form. The NFL was one of the first to realize that their female fans wanted apparel that was designed for them – it was called the "shrink it and pink it" phase, where they made the jerseys smaller but they were also in pink and often with sparkles on them.
When women sports fans were surveyed, most said they loved the size and fit of the new apparel but when at a game for the Cowboys and everyone was in blue and silver, and they were in pink, it just was not what they wanted. The league has adjusted its line to now feature replica jerseys cut for a woman, as well as couture pieces and high-fashion accessories. The changes to the line started during the 2010 season with the League's "Fit For You" campaign, resulting in increased sales.
Mobile shopping is also on the rise for sports merchandise. In recent research, it was found that 65% of sports shopping came from mobile shopping—the sales especially spike just after a team wins a big game. When the team wins, the fans want their merchandise quickly, and their mobile devices make it happen. Sports marketers need to target mobile shoppers, female fans as well as their male fans to generate the most revenue for their teams.
Receive the latest industry insights from the evōk team in your inbox by signing up for the evoker, our monthly newsletter or contact us to explore ways we can partner.