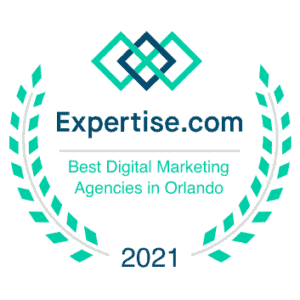 Evok Advertising Named One of Orlando's Best Digital Marketing Agencies
Expertise.com named evok advertising one of the best digital marketing agencies in Orlando in 2021. Expertise's goal is to connect people with the best local experts. After analyzing over 35 Orlando agencies, they curated a hand-picked list of the 26 best. They base their top picks on the following criteria:
Availability: Consistently available and approachable, so customers never feel ignored;
Qualifications: Building customer confidence with licensing, accreditations, and awards;
Reputation: A history of delighted customers and outstanding service;
Experience: Masters of their craft, based on years of practical experience and education;
Professionalism: Providing service with honesty, reliability, and respect.
We're proud to say evok scored an A+ in each of these categories.
Digital Marketing Specialists with Business-Growing Objectives
At evok, every digital marketing strategy we craft is focused on delivering bottom-line results for our clients. Whether that is an email marketing campaign that converts loyal customers to buy your product, a pay-per-click (PPC) ad that draws viewers to your destination, or a keyword-rich blog educating your members on the steps to financial freedom, we pride ourselves in digital done right. Across the industries we specialize in — finance, healthcare, consumer packaged goods, restaurant, and travel, tourism, and entertainment — we develop digital content and experiences relevant to your target audiences. Our complete digital marketing services include:
SEO (Search Engine Optimization)
Web Analytics
Paid Search (PPC)
Display Advertising
Content Marketing
Email Marketing
Rich Digital Media
Every piece of content we create and share serves a purpose. We work alongside our clients to define that purpose, whether it's to boost sales, drive overnight stays, or increase new account numbers, long before any ad campaign goes live. These business-growing objectives are carved into our strategy and drive every action we take. Reach out to our digital marketing team to see how we can help take your company's online strategy to the next level.