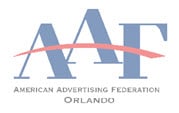 ADDY Awards Competition Fuels Orlando Business With Entries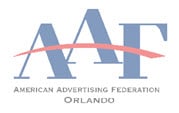 ORLANDO, Fla (January 4, 2012) — During these challenging economic times, the American Advertising Federation-Orlando has poised local businesses of all sizes for national exposure through participation in their ADDY® Awards competition, with a deadline for entry of January 13.
The annual, AAF-Orlando ADDY Awards competition provides their members and local business the forum to showcase the year's most notable advertising efforts, helping to drive membership for the organization and revenue for local businesses by recognizing all forms of advertising, in all types of media, created by all sizes and types of entrants. Winners of the local ADDY Awards Competition advance to their respective district level of competition before advancing to the national level of the competition, introducing local entrants, members and brands to a national audience.
The ADDY awards are the advertising industry's largest and most representative creative competition, recognizing creative excellence and the very best advertising worldwide. The national competition is 12 times larger than Cannes and 2 ½  times larger than the Clios. The ADDY Awards are a celebration of outstanding creative work and the creative minds behind the work. With the local ADDY Awards competition, the size of the idea is what matters most, not the size of the organization or the size of the budget. This distinction truly separates the ADDY Awards from virtually every other advertising competition and affords even the smallest local businesses the opportunity to be recognized on a national scale.
The final deadline to submit entries into this exciting competition is January 13, 2012 from 9am to 7pm at Full Sail University, 3300 University Blvd., Building B, Winter Park, FL 32792. No entries will be accepted after 7PM. To be eligible for consideration of an ADDY®, all work must have been published or aired between January 1, 2011 and December 31, 2011. All agencies, in-house marketing departments, students and aspiring creatives are encouraged to enter.
The ADDY Awards competition will culminate with the ADDY Awards Gala on February 17, 2012 at The Abbey & The Mezz. This Awards Gala will announce and celebrate the local winners from a multitude of categories, including the coveted Best in Show Award.
Key Links:
Orlando ADDY® Website http://www.theorlandoaddys.com
American Advertising Orlando Website http://www.aaf-orlando.org
American Advertising Federation Website http://www.aaf.org
Facebook http://www.facebook.com/AAFOrlando
Twitter http://twitter.com/aaforlando
About The American Advertising Federation – Orlando
The American Advertising Federation-Orlando is a division of the American Advertising Federation (AAF) and is composed locally of 300 members. AAF-Orlando's membership is diverse and collectively represents every major industry. Members include advertising agencies, print and broadcast media, production houses, creative designers, salespeople, talent, photographers and more. It is the combination of our members' skills, knowledge and experience that make AAF-Orlando and AAF a complete organization. For more information visit www.aaf-orlando.org.