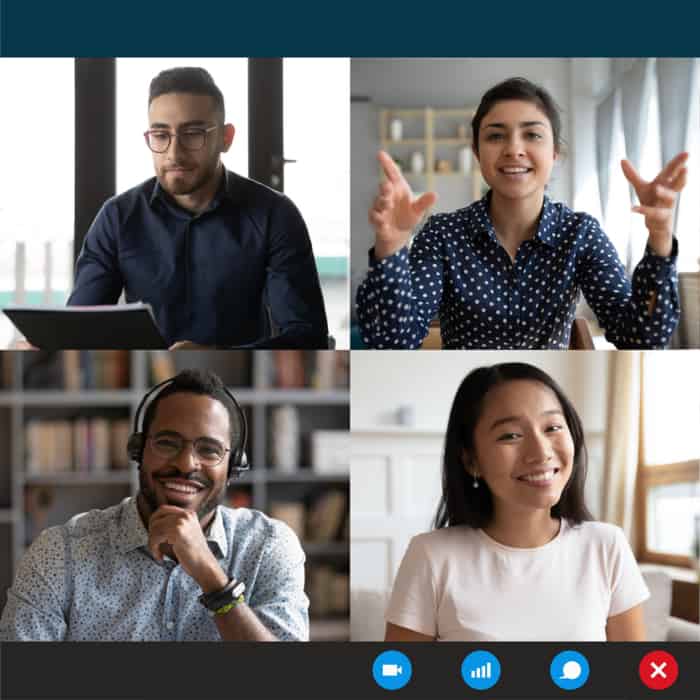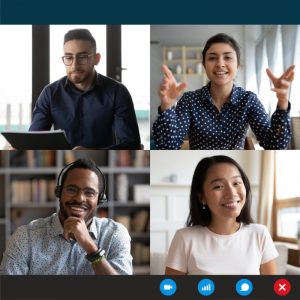 Should Your Brand Host a COVID-19 Webinar PLUS 5 Tips to Create a High-Quality Webinar
COVID-19 is forcing brands and marketers to reevaluate marketing strategies, react to consumers in real-time, and adapt quickly to changing consumer demand. Even before the coronavirus outbreak, we saw a huge increase in brands producing webinars to promote services, educate consumers, and generate brand awareness. In fact, in a study conducted by GoToWebinar in 2019, 73 percent of B2B marketers and sales leaders said that webinars were the best way to generate high-quality leads, and 57 percent of marketers said they would create more webinars this year. But it seems that since the COVID-19 outbreak, every industry is finding innovative ways to use webinars to generate brand awareness and communicate with their audiences.
Microsoft has created a series of webinars for educators new to the platform, a "remote learning community" that connects educators with each other and to Microsoft education experts, as well as a guide for parents on how to use its tools. Food Safety Tech hosted a webinar with three experts on food safety to discuss the effect that the novel coronavirus is having on food safety, and Destinations International has been producing weekly webinars which include accurate and up-to-date information as it pertains to the effects of coronavirus on the travel, tourism, and meetings industry.
Maybe you're wondering if your brand needs to take advantage of your audience being stuck at home and host your own webinar. Or maybe you're a brand marketer trying to create a quality webinar session and aren't sure how to start. Whatever the case, we'll give you the facts and best practices so you can make the most educated decision for your company.
Should Your Brand Produce a Webinar?
With brands from every industry hosting a webinar these days, it may seem tempting to jump on the bandwagon and produce one of your own. But before you dive into creating a slide deck, crafting invitation emails, and all that other fun stuff, stop to consider whether a webinar is really necessary.
Many marketers don't produce a webinar because it will be useful to their audience, but rather because it will be a great lead generation tool. However, not all content deserves a webinar. Ask yourself whether what you're offering has genuine value or if it would be better communicated through a social post or video campaign. Webinars can be highly beneficial to your audience and a great platform to generate brand awareness, just make sure it's strengthening your marketing campaign and not just following a trend.
5 Tips to Host a High-Quality Webinar
Now that you've determined that a webinar is essential for your business during these uncertain times, here are five tips to make sure it's a success!
Provide Quality Information That is Valuable to Your Audience
Fluffy sales pitches never attracted anyone, however, training and education will draw anyone in. Webinar attendees indicate that they value training and improving their skills above all else, followed closely by insight and industry trends, and how-to explanations.
Normally, you can generate a valuable webinar topic by getting your sales team's input since they know the questions and pain points for prospective buyers better than anyone else. However, during these uncertain times amid the coronavirus, ask your audience for their burning questions – not just about your specific product but about topics that apply to your industry and the effects it is facing due to the pandemic. Poll your customers and social media followers on what topics interest them most to help prioritize which to do first. Design content to educate and train your audience on what matters to them, and you will likely attract more attendees.
Have Visuals to Back Up Your Presentation
Have you ever sat through a meeting where the presenter simply reads from a series of dull PowerPoint slides? Remember how boring it was and how you wished you could leave the room? Don't make the same mistake with your webinar slide deck or your attendees will simply click out. Your deck should strengthen and emphasize the points you intend to make in your script, but it should not be your script word-for-word.
Back up your points with as much data and evidence as possible, and remember to make it entertaining. Add colorful graphs or animations to make your slides come to life. As part of your preparation, design specific points for interaction, and show slides at those points to prompt your audience. For example, when you plan to stop for questions, insert a Q&A slide in your presentation to signal to your audience that it's okay to speak. When stopping for an audience poll, insert a slide with the poll question on it.
While these may seem like simple visual tips, it will ensure your webinar looks as professional as it sounds.
Set Up Quality Tech for a Smooth Experience
You've probably sat through a video conference meeting recently where someone's video is cutting out, the microphone is causing ear-splitting feedback, or the host's internet connection is weak so the call keeps breaking up. It's frustrating and it takes the professionalism out of the call. Be prepared and avoid having that happen during your webinar.
The equipment you use can make or break your webinar. While it may seem more convenient to rely on the built-in microphones on your laptop or desktop computer, use headset microphones or landline phones to ensure that the audience can clearly hear your presentation. If possible, have a backup computer and spare batteries for your equipment just in case you experience technical difficulties. Using the right equipment will boost the quality of your webinar and ensure that participants have a great experience.
Structure Your Webinar for Engagement
Not only should your webinar provide valuable information, but it should also be interesting and engaging for your audience. Studies show that the best webinar length is around 50 minutes. Anything more than an hour gets boring, and too-short webinars leave you without enough time to properly address your topic and answer questions. Take advantage of interesting points. Sprinkle a joke, question, or surprising piece of research every few minutes to keep people engaged throughout your webinar.
Promote Your Webinar
Finally, in order to have a successful webinar, you need an audience. Promote your webinar beforehand so your audience shows up ready and excited for your presentation. Start by creating an engaging landing page that introduces the webinar topic and speakers, highlights the date and time, and includes a clear call-to-action for people to sign up to attend.
Promote your webinar on your social media accounts and create a catchy hashtag that will encourage people to engage online. Post a short video to give attendees an inside look of what they can expect on the day of the webinar or create a blog post that previews your webinar topic to get them excited. Finally, send several email reminders, and on the day of the webinar, you can send an email that includes a direct link to the event.
During these trying times of COVID-19, have fun experimenting with new marketing strategies that your brand might not have otherwise thought of. Just remember that content is still king, so make sure that whatever you produce is valuable for your audience.