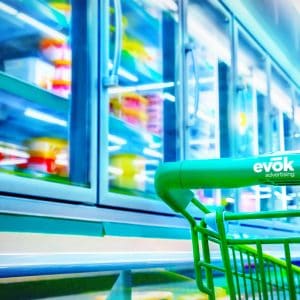 How the Frozen Aisle is Standing Up to the Heat of Food Trends
It's 8:30 pm and you're just now getting home from work after a long day. You're starving and cooking up a meal from scratch is out of the question but your lack of time isn't an excuse to settle for a lack of flavor or nutrition. What do you reach for? A few years back, the idea of heating up a frozen dinner sounded like a quick way to undo a day of healthy eating. But with the significant shift in food trends towards freshness and quality, frozen foods have started to heat up as a healthy alternative to quick service.
Grocery markets have taken a recent turn in fashion from not only catering to busy moms and dads, but to Millennials who are hungry for a solution to their independent lifestyles and diverse tastes. Foodies are driven by worldwide flavor profiles and fresh ingredients and many manufacturers of frozen foods are taking action. As manufacturers sizzle up their marketing strategy, it is of no surprise the ecommerce sales of frozen foods increased 13 percent by the end of last year.
Natural Always Wins
Marketers are looking to the frozen aisle to satisfy customers' desire for more natural foods without added preservatives while avoiding the "junk food" aesthetic. According to the International Food Information Council in Washington, DC, the sale of frozen food, including the word "natural" on their packaging, has increased. Consumers look for recognizable, wholesome ingredients in their meal choices. Nowadays, the nutrition facts panel determines whether the consumer decides to purchase the product or keep walking. Moving these flash terms like "natural" and "fresh" to the front of the packaging can help secure a sale by giving the consumer a sense of security in their meal choice. Many have also introduced new diet trends like "gluten-free" or "paleo," which have also started to make an appearance on package faces.
Choosing Frozen for Flavor and Freshness
The argument stands firm that frozen foods can be marketed as just as flavorful and nutritious as their fresh counterparts. USDA physiologist Dr. Gene Lester told Eating Well magazine that some frozen vegetables may be considered just as (if not more) nutritious frozen as they are raw. Frozen fruit is becoming a popular addition to shopping carts, as their sale increased 35 percent online in 2015. Fruit is a perfect example of packaging approach to all-natural ingredients, as many fruits can be preserved with little to no additives at the peak of their freshness, and their wrappings reflect the simple nutrition inside. Callouts to "fresh" qualities on packaging can become a real success for frozen food manufacturers looking to preserve a spicy or cultural-specific flavor profile. Frozen foods can better preserve spices and marinades in meats, which helps a consumer to stretch the time period they have a flavorful meal on hand. In-store advertisements and circulations that nod to the "fresh" nature of a frozen meal can direct consumers towards the product, since a frozen meal satisfies their desire to stick to their diet plan, but still have dinner ready in under 30 minutes.
The Convenience Factor
As always, Americans are becoming increasingly busy as the workday increases and time at home decreases. Many millennial minds work double hours, straddling school and work, and few have the time to plan or prep meals ahead. Manufacturers have capitalized on this idea by marketing fresh foods that can be made quickly as a meal, or that can be paired with foods that are already prepared. The freezer aisle offers a helping hand for the home cook with the same ingredients that they might use themselves. Additionally, foods that are labor intensive to make or recipes that are far outside the usual fare become accessible with frozen foods. Hispanic and Latino food is extremely popular in the American market, and makes a firm stand in most grocery freezer aisles already. Competition for that square foot of freezer space can be challenging for many smaller companies to buy out, but foods that include the aforementioned freshness and brand awareness can begin to knock competitors off the shelves.
Manufacturers can look ahead at the frozen food market as a resource. If brands position frozen foods as a pause on nature's ripening process, they can keep up with the pace of freshness and quality trends in the market. The convenience and diversity of frozen foods can feed a business opportunity—despite the challenges of shelf space in the packaged food industry.
Receive the latest industry insights from the evōk team in your inbox by signing up for the evoker, our monthly newsletter or contact us to explore ways we can partner.