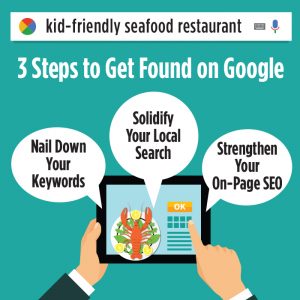 SEO for Restaurants: How to Appear in Online Searches
SEO for Restaurants: 3 Steps to Get Found on Google
Plain and simple: SEO, or search engine optimization, for restaurants is crucial. We can all agree and attest to the fact than when we're looking for a spot to eat, we turn to Google for the answer because, well, it's never failed us.
Whether it's searching for "authentic Venezuelan food" or "gluten-free restaurants near me," Google gives us what we want when we want it. Pretty great relationship, right? But like most great relationships, it can't do it alone—it needs your help. With your assistance, Google can fully and truly define who you are as a restaurant. On top of that, if you don't have a good grasp on SEO best practices, your customers may not be able to find you even if what you offer is exactly what they're looking for.
So, to give the people (or customers) what they want, here are three ways to start using SEO best practices for restaurants.
Nail Down Your Keywords
Before you jump in and start trying to drive traffic to your website and get customers inside your restaurants' doors, you have to sit back and ask yourself, "Who am I trying to reach?" Is it people looking for a quick, healthy bite to eat? Couples wanting a romantic night out? Families or friends hosting a small celebration?
Laying out a content marketing strategy and content plan should all be a part of this big question. Once you have the strategy, plan and audience in place, your keywords to help these people search for your will come naturally.
To start digging into these keywords, use a keyword research tool like Google Keyword Planner, SEMrush or SpyFu. These tools will show the volume for specific words people use to search on a range of high, medium or low. If you're just beginning your SEO journey, it's best to start with a medium or low keyword, so you're not trying to compete with the big guys out there who are trying to land the number one spot with "Orlando restaurant."
Rather than reach for the stars, start with the basics and find niche-specific terms to reach customers who know what they want. For example, if you're an Italian restaurant, this might be "family-style Italian," or if you're a cafe this might be "casual coffee shop."
Once you have a solid list of keywords and a specified audience, you're ready to start increasing your online visibility.
Solidify Your Local Search
Local SEO is the practice of boosting search visibility for companies, like restaurants, doing business in person in a specified area. Without claiming and optimizing your restaurant listings, your rankings in local searches might be lower than you'd hope.
To start ranking higher on Google, Yahoo or other search engines, first focus on establishing accurate NAP (name, address, phone) data across search engine directories, industry-specific directory sites and social media sites. Any time your NAP data is listed online, it's known as a citation. Google uses these citations when evaluating your business' online presence and authority—so these citations matter.
To keep citations consistent and accurate, start by creating a Google My Business page to establish yourself where people search the most—Google Search and Google Maps. After you've signed up and created a Google My Business listing, head over to your social media pages, Yelp, TripAdvisor, Foursquare, CitySearch or any other beneficial sites for your establishment.
After bolstering your online presence with NAP data, use those keywords you found and weave them in the business description and business category to further optimize your citations.
Accurate citations not only help you rank higher on search engine results pages (SERPs), but they also bring customers into your restaurants. Multiple pages with different hours of operation or even locations might push hungry customers to dismiss your restaurant and choose the next best option. And you can't blame them—when the "hanger" sinks in, you gotta eat.
Strengthen Your On-Page SEO
Your keywords not only matter for your business description and business category, but also for your actual website. These keywords help Google properly classify your content to ensure your users find what they're searching for whether it's a late-night pepperoni pizza or coffee shops that serve dairy-free milk.
With your keyword list at hand, make sure your top keyword for each page appears in crucial positions: URLs, title tags, meta description tags, headings and image alt tags. The keywords with a lower priority can be sprinkled in or used thematically throughout your body copy. This might seem like a gruesome task to do this for every single page of your website, but your customers and Google will thank you, and your ROI will show the appreciation.
Are you ready to get found on Google? Implement these three best practices to get started today.