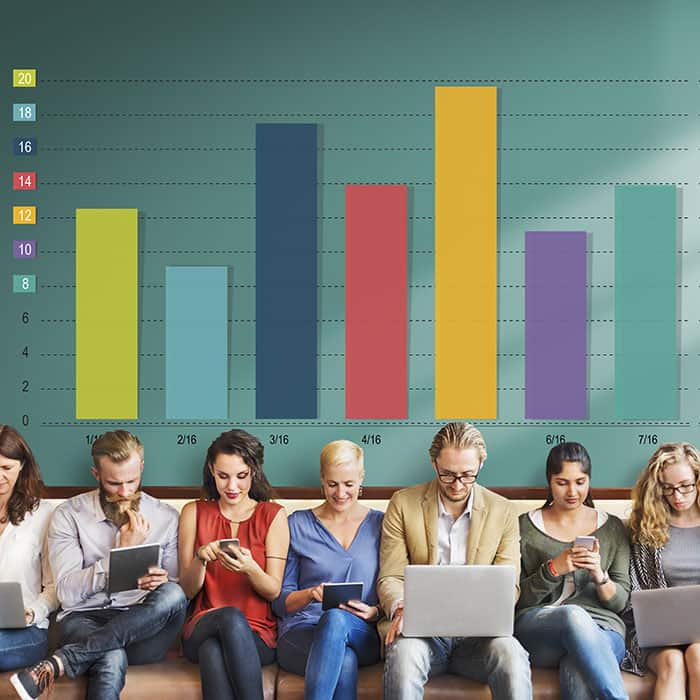 Social Media Marketing Guide: Audience Targeting by Platform

Social Media Marketing
Why is a social media marketing plan important for your business? It's simple — social media is one of the most effective methods of connecting with your audience in a meaningful way. Interacting with your audience on social platforms can generate customer loyalty and increase your brand awareness. Having a presence on multiple social media platforms also improves your search engine optimization (SEO) as social channels are commonly the top three search results. You can even perform a competitive analysis. Viewing how your competitors are using social media to promote their business can give you insight on how to better use digital marketing to set your business apart.
Knowing the unique benefits of each platform can help you improve your online presence. Many social channels may have similar audiences but it's important to understand what the audience is looking to gain by going on popular platforms such as Instagram, YouTube or Twitter — as each one specializes in different kinds of content. As you make content for your channels, keep in mind that one post re-shared to every platform may not be as effective as curating original posts for each platform.
It can be tricky to keep track of which demographic prefers what social media platform and what they want to see, but don't worry — we've combed through all the data to find which platforms will best match your target audience. Keep reading to learn everything you need to know about improving finding your audience and creating content they want to see.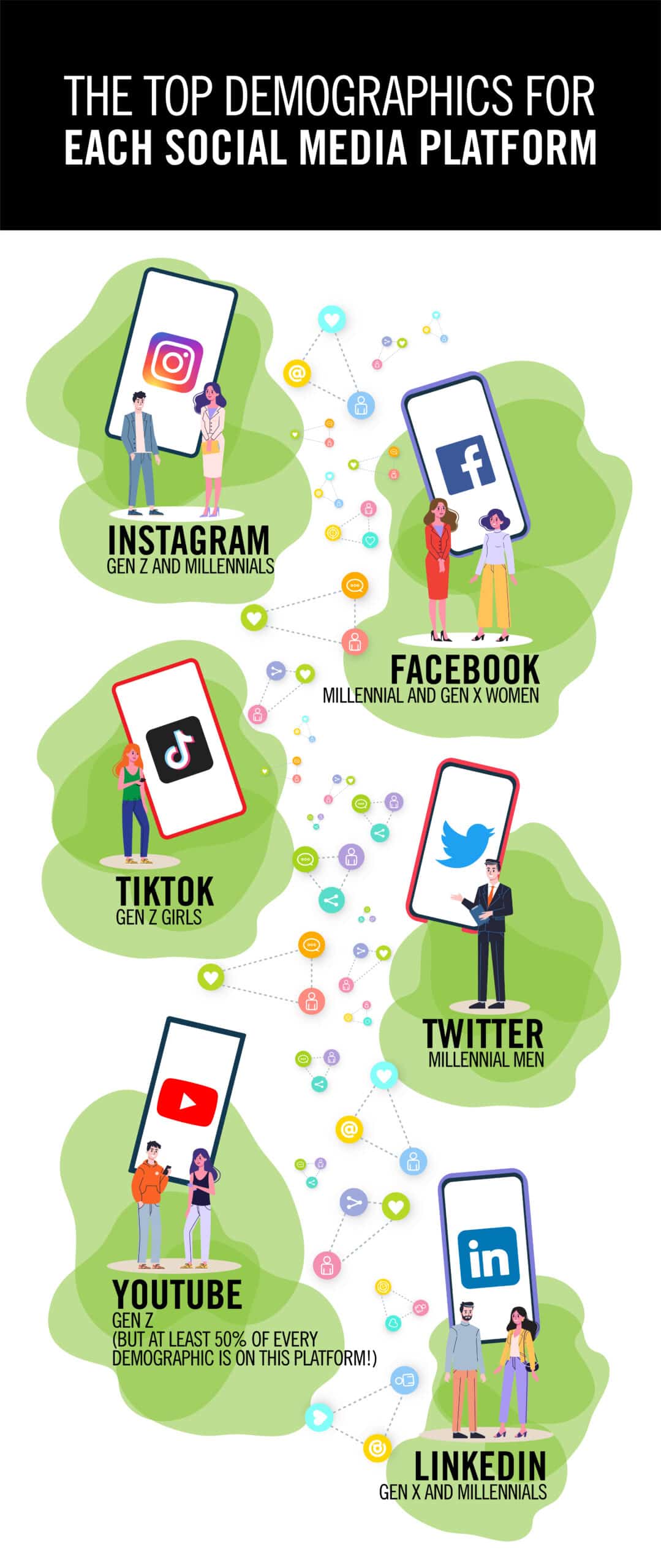 Social Media Platforms
Instagram
Instagram is a photo and video content focused platform. People use Instagram to connect with brands, celebrities, and friends and family. Connecting with your audience is easier than ever before with features like live streaming, a way to reach your audience in real-time.
Instagram is where you'll find Gen Z and Millennials. As far as gender, Instagram has a pretty even split, 50.3% of Instagram users are male 49.7% are female. However, for users that are 35 years old and up, women outnumber men.
Research shows that Instagram is the preferred platform for users with higher education levels with an annual household income of at least $100,000 — 60% of internet users who have some college level education or hold a college degree are on Instagram. This suggests that using Instagram to announce new products or sell products could yield positive results.
Facebook
What sets Facebook apart from the pack is its news output. In fact, 36% of Facebook users regularly get news from the site.
Facebook is also where you'll find Millennial or Gen X women. Users of the platform are a little bit older than Instagram users — 26% of them are 25-35 years old and 18% are 35-45 years old. Facebook is more heavily swayed towards women than other platforms, with 61% of male US adults say they use Facebook compared to 77% of female US adults.
73% of internet users who are college educated use Facebook, and 70% of people who earn an income of $75,000 or more are also on the platform. As a business looking to start social media advertising, Facebook is a very viable option for reaching higher income customers.
Facebook is the most popular social media marketing platform for brands. In the US, female Facebook users click on advertisements an average of 21 times per month and male users click 15 times per month.
Facebook's ad revenue is $115 billion —the highest out of every social network. The platform is a one-stop shop for connecting with friends and family, getting the latest news updates, and ecommerce. When using Facebook, your tone should be family friendly, save any "edginess" for the younger platforms, i.e Twitter, TikTok and Instagram. Facebook ads are also a helpful tool in connecting with your target market. A targeted ad with a call to action link featuring your website will drive traffic to your website.
Twitter
If the buyer persona you're looking for is college-educated, 25-35 year old men, Twitter is the platform for you. Notably, minority internet users (African-Americans and Latinos) are more than twice as likely to be on Twitter than white internet users. Twitter also exhibits a larger male base, with 56.4% of the users being male, 43.6% female.
Twitter is one of the smaller social media platforms — only 23% of US adults say they use the site. Almost 39% of twitter users are 25-35 years old with the next leading group being 35-45 years old at 20%.
Moreover, 34% of internet users that make more than $75,000 use Twitter. Twitter users are generally well-educated too, 59% of internet users that use Twitter have at least some college level education.
Twitter is a space of conversation and collaboration. Twitter, along with TikTok, are where trends start — You'll even see reposted tweets on Instagram and Facebook. Retweeting people who mention your account, or relevant tweets about your industry, should be part of your Twitter social media marketing strategy. Twitter is also the place to show edginess and humor. The more humorous and lighthearted your business account sounds, the better engagement you'll have with your audience.
YouTube
YouTube is the second most popular social platform with 2.5 billion active users. With something for everyone, there's a good chance you'll find your target audience on YouTube. For instance, no matter the age demographic, at least 50% of them are on YouTube. The male to female YouTube ratio is 11:9. 46.% of YouTube users identify as female and 53.9% identify as male. There is also a wide range of income levels on the platform, so there are endless opportunities to speak across different economic brackets and demographics.
YouTube users based on US internet population:
77% of internet users aged 15-25
77% of internet users aged 26-35
73% of internet users aged 36-45
70% of internet users aged 46-55
67% of internet users aged 56+
Keep in mind, while many different groups of people are on the platform, they're going to watch different things. According to Hubspot, Gen Z usually goes to YouTube for entertainment or education. Millennials go on YouTube for reasons similar to Gen Z — catching up on news stories, watching inspirational or educational videos, and product reviews. Gen X visits YouTube to find DIY videos or throwback content. Baby boomers are on YouTube looking for how-to content and tutorial videos. If you craft your message and placements based on the preferences of your target audience, you're sure to catch the attention of your customers on YouTube.
TikTok
TikTok is the youngest but fastest growing social media platform of 2022. Its short form video content keeps the audience engaged and boasts the youngest user base of all social media channels with 32.5% of users being ages 10-19 and 29.5% of users being 20-29 years old. This platform also has a significant gender gap in its users — 60% identify as female and 40% identify as male.
The eight most popular types of content on tiktok are dance videos, social media challenges, dialogue reenactments (lip syncing), cute animal videos, calming ASMR videos, comedy content, science experiments and singing videos. Businesses are most successful on TikTok when they use light-hearted comedic language, follow trends, and are active in comment sections.
LinkedIn
LinkedIn is a powerful but unique platform that targets business professionals. While the audience is older with 46-55 year olds most likely using the site, the presence of millennials on the site is growing.
Most LinkedIn users make over $75,000 and many are a part of upper management — according to Hootsuite, 45% of Linkedin users are higher up in their companies.
Hootsuite adds that more than 46 million students and recent college graduates use LinkedIn, making them the networking site's fastest-growing demographic.
Because business professionals use LinkedIn, business-to-business (B2B) marketing does well on the platform. Understanding why each age group uses LinkedIn is important when making your marketing strategy. Moreover, bringing behind-the-scenes videos and personal success stories about your products/service can help engage your audience.
Audience Targeting
Keep in mind, it's important to build a presence on multiple social media platforms — it's rare to find your entire audience on one platform. By having multiple social channels, you can reach key audiences, provide outlets for customer feedback and improve your search engine results.