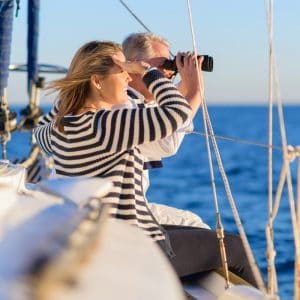 What You Need to Know About the Baby Boomer Traveler
Understanding the Baby Boomer Traveler's Persona
Travel and tourism marketing and advertising efforts have heavily focused on the coveted millennial generation in recent years. While it's good to hone in on an emerging market, another generation might be boarding more planes and booking more hotels than you think.
And that would be the baby boomers—the generation born between 1946 and 1964 and who's currently between the ages of 54 and 72.
The tens of millions of baby boomers living in the U.S. are starting to clock out for the last time and kick their feet up in the world of retirement. And once this generation set reaches retirement, they'll be traveling across the U.S. and taking long-stay vacations.
While there's constant chatter across the web, TV and radio about all the challenges we'll face once these boomers hit retirement, we shouldn't focus on the rough patches, but rather think about the benefit that comes with the boomers aging out—money for the travel and tourism industry.
According to AARP, baby boomers produce about $7.6 trillion in economic activity each year. With all that money flowing in and out, that's enough for Americans 50 or older to represent the third-largest economy in the world. On top of that, almost 20 percent of the population will be over 65 by 2029, according to the U.S. Census Bureau data. Now, that's a large segment of retirees to target.
But before you take this information and run with it, you have to learn who exactly you're speaking to. We know we're speaking to baby boomers, but who are they? What do they like? How do they receive information? Where will these vacations and long-stay trips take them? If you're looking for these answers, just read a little further.
They're Headed to U.S. Urban Cities
Baby boomers are a little weary of international travel. While they're willing to travel as far as Hawaii and Alaska, current events and security concerns keep them inside the states. On top of that, when they travel within the U.S., they avoid encountering language barriers or dealing with currency exchange rates.
Once baby boomers pick a state for their vacation or trip, they often choose an urban city to visit. Far fewer boomer are heading to the mountains or relaxing on the beach mostly because of health and fitness concerns. Ideally, they would like to stay in a small town with restaurants and shops nearby or easily accessible public transportation to get around.
They Enjoy Travel Packages
Travel packages—they're simple and cut out the planning process, and that's why baby boomers enjoy them. They don't want to work for their vacation, they're in retirement after all.
But baby boomers aren't looking for a go here on this day and go there on the next day type of travel package. Boomers will heavily lean towards activity-focused travel packages. They want to be fully immersed in their urban city, get to know the locals and feel like a resident. They want to learn how to create an impressive pie in Little Italy in New York or take a hand at the sommelier life at a vineyard in California.
They Travel in the Off Season
Reasonably, they don't travel during winter or spring break when all the parents take time off with their kids and flood cities. While they enjoy traveling in summer and spring for the nice weather, they avoid the busy holiday or vacation season. And unlike full-time employees, they don't have to request paid-time off or wait for long weekends. They can search for the most convenient flight, pack up their bags and go.
They Create Bucket Lists
With no job to work around or kids to take care of, retirement is the perfect time to start checking items off the bucket list. While baby boomers are hitting travel destinations on their list, they're also adding to it, too. According to an AARP survey of 889 baby boomers, they have an average of eight cities they want to visit.
They're Influenced by TV
For offline marketing, television is where it's at for baby boomers. It influences them more than recommendations from friends or spouses/significant others and pushes them to search online for information. And once they're online, they use the Internet to their fullest advantage.
They're Plugged In
They've seen it all. They've watched the roll out of the first black-and-white television, and now they've seen it shift over to OLED on flat screens and the iPhone X. They have truly lived in the age of technology, and they certainly don't shy away from it.
Surprisingly or maybe unsurprisingly to you, 96% of baby boomers look for answers in search engines, 95% send and receive emails, and 92% shop for products and services online rather than in stores.
And these boomers don't stay on one channel. About 75% use social media, primarily Facebook, 70% enjoy watching online videos, like YouTube, about products and services and 60% search around the Internet to read blogs and articles.
But, don't jump on the bandwagon and follow the trail towards mobile. Even though baby boomers are active online users, they prefer to use desktops or laptop versus mobile devices.
To put it short, boomers are plugged in, and they're not planning on unplugging anytime soon.