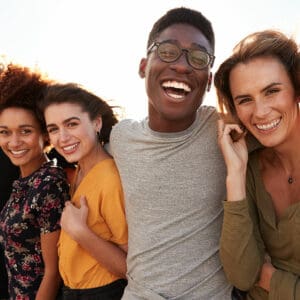 The Evolution of Credit Union Marketing: Personalized Member Experiences
Credit union marketing has evolved. While rate shopping and accounts going inactive after a loan is paid off are still a part of the credit union member lifecycle, how we combat churn has become increasingly sophisticated. Marketing strategies for financial institutions are rapidly shifting from transactional marketing to purpose-driven, relationship-building marketing. And in order to build those relationships in today's digital world, consumer expectations are moving towards personalization.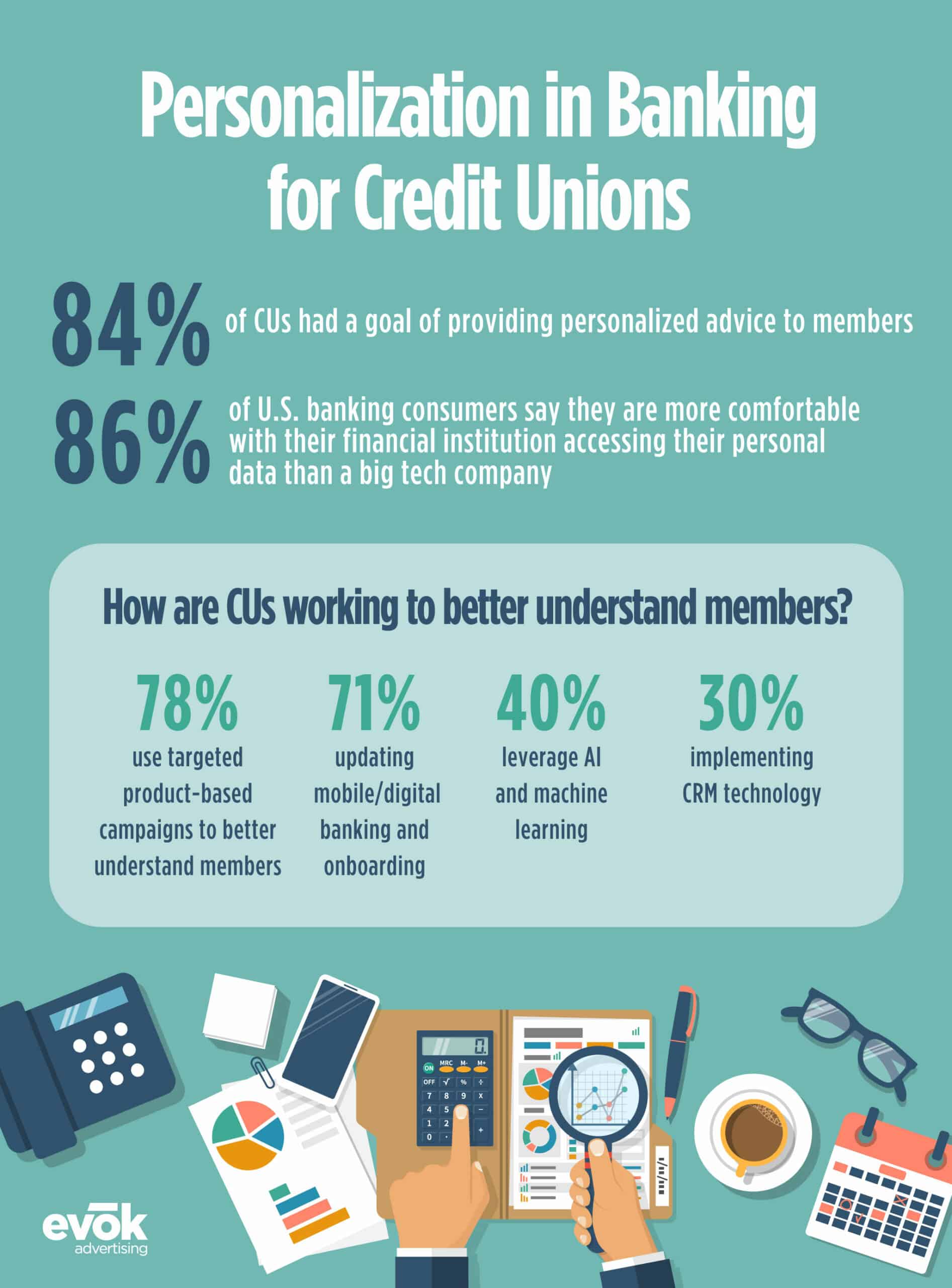 Customers are demanding ever more personalized communication and targeted experiences from not only their bank but their streaming platforms, retailers, and more. This personalization drives customer trust, satisfaction and creates the foundation for a long-term relationship. To tap into this opportunity to grow both memberships and share of wallet, financial institutions must first understand what personalization means in the banking world and the role of digital services in that personalization. Let's begin.
Personalization in Banking: What Do Credit Union Members Expect
Reading an article penned by an advertising agency, you might expect us to focus on marketing as a means of delivering personalized brand experiences for your members. But we've already done that. The truth is one-to-one marketing is only possible when you work from the inside out.
In banking, personalization goes beyond increasing products per member — it's about creating trust and building deeper relationships. It means not only offering a product or service when members need it but predicting those needs to provide answers and advice before they ask for them.
The art of anticipation is key for successful credit unions. To do this, CUs need strong cross-channel communication that allows them to better predict needs based on behavior and experiences in crucial decision-making moments. Unfortunately, legacy technology can make it difficult for credit unions to view a full picture of their members' financial journeys. You can't tailor your customer's experience based on their needs if you don't know what they want.
An integrated technology ecosystem can help develop these systems, as well as allowing credit unions access to feedback and data from members.
With the right platform powering data acquisition, tracking member transactions, and analyzing member behavior, credit unions can monitor member interactions to deliver that much-demanded personalization.
What Does Personalized Banking Look Like for Credit Unions
We've established that consumers — in this case, credit union members — demand and expect personalization in the form of anticipatory service. So, what does that look like for a financial institution? Here's an example.
John Smith is a member of your credit union. John became a member by financing a car with your institution and keeps $5 in his checking account to maintain his membership. For many credit unions, approving John for a loan means their job is done — you've grown your membership. But what happens when John finishes paying off his loan? Chances are, he will close out his account and go on about his finances without you. Unless you make an impression as his lender. That's where personalized banking comes in.
With a clear and complete picture of John's banking relationship with your institution, you can tailor both operations and communications to address his unique financial needs. For instance, if you see him manually making loan payments each month, perhaps you could reach out to help him enroll in autopay using your digital banking suite. Maybe interest rates were high when he bought his car — could refinancing help him save money? In this particular case, you're working to save John money, in spite of your profits, showing him — and other members like him — how your institution values those who bank with you.
The Role of Digital Services in Personalized Marketing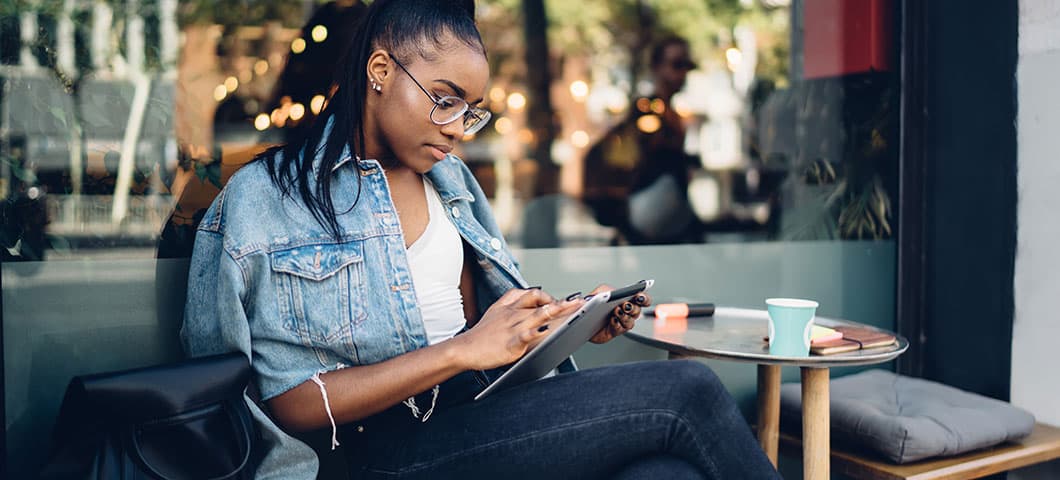 On an operational level, the availability and ease of use of your digital services are yet another layer in the personalized banking structure. Before the pandemic, digital banking adoption was already on the rise. A recent Ad Age-Harris poll found that Gen Zers do about 64% of their banking online and Millennials do about 69% banking online, on average. Spurred by need, today's online banking audience is broader than ever with late adopters making the transition to heavy digital use during quarantine.
Another factor fueling the demand for seamless digital services is a bit more unexpected. The virtual world is so intertwined in our current lives, consumers actually equate connectivity with caring. That's right, your members view institutions that offer simple, fast, and personalized digital experiences as showing a higher level of caring about those with whom they serve. This begs the question, how would your digital services classify your credit union?
To compete in a world of data-rich consumers, financial institutions must strive for both ease and intelligence. In the age of technological innovations such as AI (artificial intelligence), machine learning, and predictive analytics, what was once considered "big data" has become everyday information that can be leveraged by banking institutions with an eye toward understanding consumer preferences so they may provide tailored offerings based on the needs or wants their customers have expressed.
Taking the First Step Towards Customized Member Experiences
Staying relevant means staying alive in today's ever-shifting financial, business, and social landscapes. FIs must remain on the lookout for new ways to keep themselves up to date, and it starts with monitoring, evaluating, and marrying member data across areas of service.
The old way of doing business was paper and pen. Antiquated operations technology may just be one step above. Without an integrated system, it becomes infinitely more difficult to measure member interactions and feedback or make customized recommendations based on that information. This one-size-fits-all approach is simply no longer an option for credit unions.  The most successful companies of our time focus on a single customer at a time, creating tailored experiences to captivate their attention and make them feel like they matter.