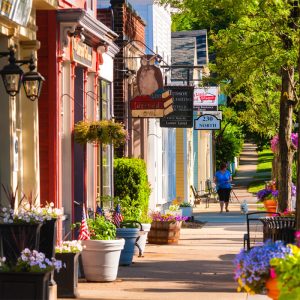 How Can a 'Smaller' Destination Compete for Tourism?
According to The State of American Vacation 2017, Americans are beginning to use more vacation time, and the trend is projected to continue. For growing travel destinations this presents opportunity, but a considerable amount of the industry share lies in large cities such as Orlando, Las Vegas, Los Angeles and New York City that are popular travel destinations for people around the world.
When your destination is overshadowed by the publicity of larger nearby vacation hotspots, how can you make it stand out and attract visitors?
The key to marketing a smaller destination is to first identify the unique selling points of that location. This is the combination of the location, activities, and experiences that travelers have at your destination that make their trip unique.
If you can take the website copy for your destination and insert the name of another nearby destination instead – then your marketing strategy needs work. Generic travel marketing phrases such as "Discover Many Things to See and Do" and "A Historic Downtown with a Vibrant Atmosphere" are too vague and can apply to almost anywhere.
Answer this question first and foremost:
What experiences do you offer that visitors cannot have anywhere else?
Making your destination stand out
A great example is the city of Lindstrom, Minnesota. This small town realized that it had a distinctive Swedish culture and history and started marketing itself as "America's Little Sweden." With local bakeries selling Scandinavian donuts and Swedish rye bread and Sven's Clogs selling wooden shoes, this unique take on tourism put Lindstrom on the map. It even made international headlines when the town requested the umlauts to be included on their state roadway signs. (Lindström vs Lindstrom).
Another example is Seminole County, Florida where a 15-field sports complex was recently constructed, designed to attract youth sports tournament play. Parents will spend more than $7 billion this year on traveling related to their children's sports – often staying a day or two before or after the tournament to turn the trip into a family vacation. This is an example of a smaller destination that can market itself as an attractive place to head for youth sports tourism.
What does your spot have to offer?
What if the answer lies in what the destination isn't? Taking Seminole County as an example again – one of the advantages of staying here is that you will be close to the most famous Orlando attractions but the hotels will be more affordable and the restaurants less crowded.
The charm of smaller destinations is going to come from the unique local economy. Mom and Pop restaurants, local breweries, Bed and Breakfasts and boutique shops will attract visitors wanting to experience something other than national chains or large commercial brands while still being close enough in proximity to have the choice to experience both.
Destinations such as Seminole County can be the ideal alternative family vacation, a peaceful spot between the theme parks and the beaches with other great kid-friendly attractions nearby such as the Central Florida Zoo & Botanical Gardens and ZOOm Air Adventure Park.
Perhaps even focusing on their unspoiled ecotourism transforms the area to become relevant to travelers looking for outdoor adventures like hiking, kayaking, fishing and boating.
Reaching visitors before they arrive
As Mark Rybchuk, Corporate Account Executive at Hootsuite, explains in this article, visitors don't just arrive out of the blue one day and then disappear two weeks later. They are spending a considerable amount of time online researching before their trip.
Build a relationship with these visitors before they arrive so they feel comfortable navigating the destination. This could include creating a campaign offering valuable information about what to do, where to stay, how to get around, etc.
You can be a valuable resource to help them plan their trip weeks or even months before they arrive, whether they are in the Daydream stage or the Practical Planning stage of booking tickets and arranging accommodation.
Highlighting those points to the right audience
The next step is to highlight these experiences to the ideal audience of potential visitors. The right audience will be the people who are interested in what you have to offer. They won't just want a typical vacation, they will have a particular reason for visiting your destination above all others.
In order to attract more of the visitors you want, it is important to understand the emotional reasoning and preferences of the type of person who represents your ideal customer. It is helpful to sit down with your team and think about how you would describe the persona of this customer – How old are they? Do they have kids? What is their income? What hobbies do they enjoy? How do they like to travel?
When you've targeted your ideal visitor you'll know because they love everything that your destination has to offer and will become a brand advocate for you – sharing their positive experiences on social media and telling their friends about what a great trip they had.
If you discover you have more than one target market, that's okay. In this case, chances are you have more than one unique selling point, so just distinguish between them when targeting your audience.
Remember that you are not selling your destination to tourists – you are selling the experience they will have while they are there. Put yourself in their shoes: what will make them fall in love and want to come back again and again?