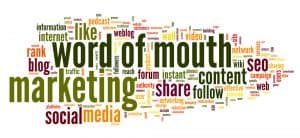 Why Social Media Marketing is the New Word-of-Mouth
In times past, you may have gone to your family and your friends to research which banking institution was right for you. The same goes today, but consumers are communicating with their friends and "trusted advisors" via social media.
A recent LinkedIn study found that 63 percent of affluent consumers research financial services and products on social media before making decisions, and these decisions range from basic account services to second and third tier offerings, such as home mortgages and investment opportunities.
Social media marketing is shaking things up for credit unions!
Economic indicators are forecasting a rebound from the recession, and prospective homebuyers are taking advantage of the historic low home prices and mortgage rates. Even as recently as a decade ago, word of mouth referrals were how new business was generated, and how many consumers found a lending institution. Today, however, the Internet is on the forefront of how they are now shopping for a lender. Social media pages and the websites of credit unions, banks and other lending institutions are the primary stops for a potential costumers to read both member and industry reviews. Vicki Elme of the New York Times reported, "the top seven [financial institution] sites drew in 22 million domestic visits in April 2012 alone."
Another way people are taking advantage of the social media outbreak is researching investment opportunities.
Cognet Research said, "70 percent of wealthy investors have reallocated investments, or begun or altered relationships with investment providers, based on content found through social media." This is a staggering percentage considering how young social media really is, and that percentage is only going to increase. In the past, credit unions, financial advisors and investment companies would spend significant portions of their marketing budgets on traditional ad campaigns to reach the investment market. Now, they are shifting priorities and dollars toward the development of educating, enlightening and engaging social media content, as well as both monitoring and mining their social media platforms for leads. Jennifer Openshaw of Marketwatch.com said, "investors are paying less attention to those multi-million dollar ad campaigns, and more attention to social media networks."
A survey conducted by The Financial Services Club said that 93 percent of consumers surveyed felt that financial institutions must focus on social media over the next five years in order to stand out in the marketplace.
This means social media will become our most dominant source of communication in the near future. Credit unions have always been about the personal connection to group of individuals that share a common connection — where they work, live, reside or worship. That connection brought the community of members closer together, yet social media, also meant to bring people closer together, actually reduces face-to-face interpersonal communication, and credit unions that adapt to that change in ethnography and take advantage of its mediums to engage with their audiences will continue to flourish.