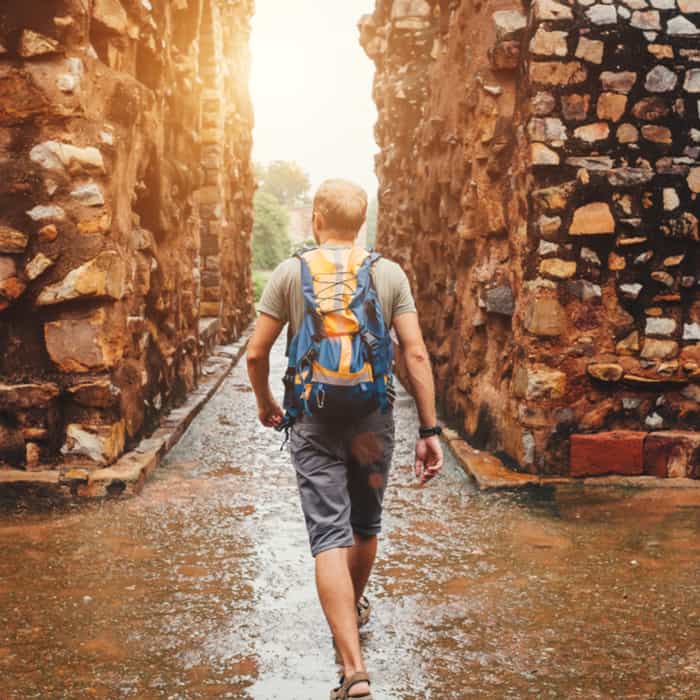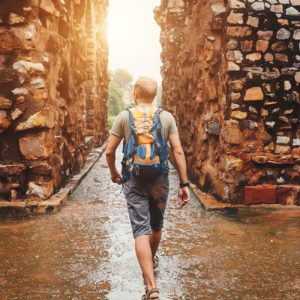 Marketing Miles: Staying in Touch with the Solo Traveler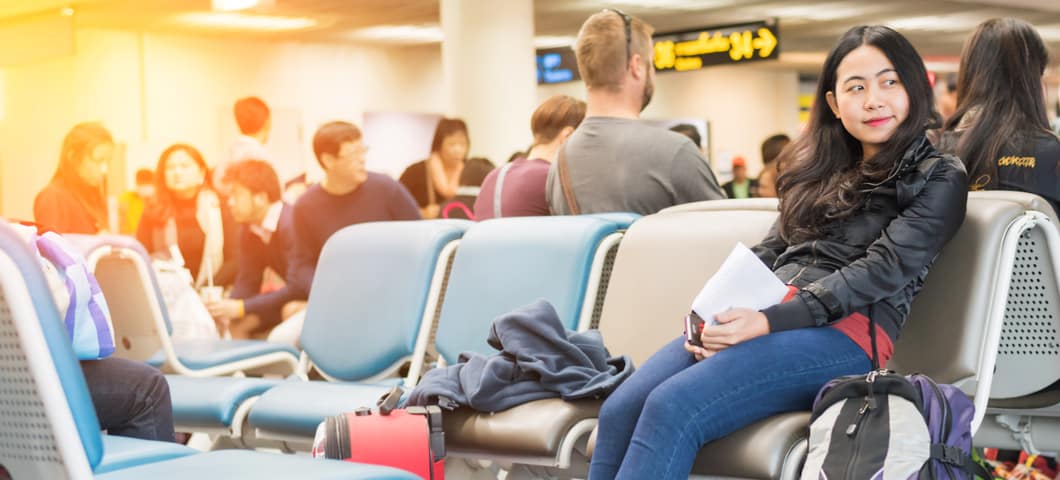 Consumers are no longer driven by the urge to collect items and materials—they're fueled by the prospect of gathering experiences, and they aren't willing to put their experience in the hands or schedule of a travel companion. This growing rearrangement of social priorities has led to a dramatic increase in the desire to experience something as quickly as it would take for a product to arrive at your door, which has prompted a climb in the solo travel market.
Flagged as a #1 trend for 2019, solo traveling has become the newest way to explore new destinations without having to wait for the commitment and availability of a travel companion. As it becomes easier to map-out a brand new location, get opinions on the best local food and learn about the must-see attractions, it gets more tempting to drop everything and experience it firsthand – even if you're the only one setting out.
This trend will continue to collect miles in 2019, with 38% of those having traveled solo showing favor to doing it again. Companies in the travel industry – from destinations, to hotels and tour operators – will need to adapt their marketing efforts to appeal to the solo traveler, which means they'll need to understand the solo traveler's identity, mission and how to reach them along their journey.
The Solo Traveler Profile
Modifying your marketing strategies is only effective when you are confident in the specifics of the target audience, even if that audience may have just recently started growing into categorization. Solo travel is not a new trend, but it is a growing trend, and there has been a lot of data collection implemented to reveal exactly what the solo traveler looks like.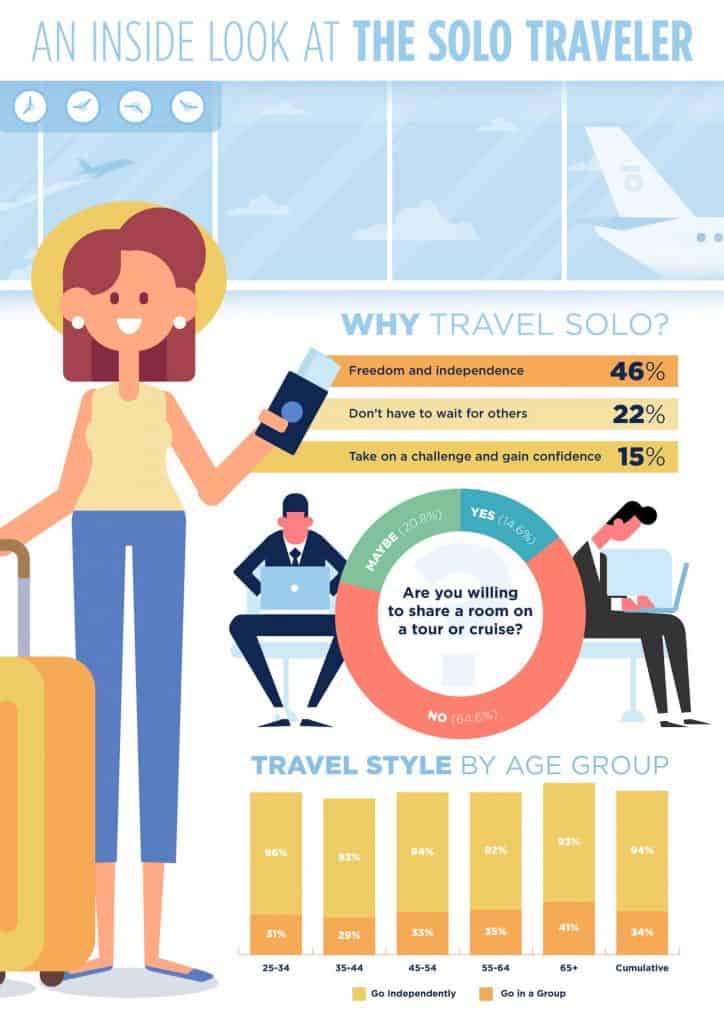 Education
Solo travelers are no strangers to taking their trips and education to new heights.
A 2018 survey by Solo Traveler found that 50% of solo travelers have a university or college degree and 35% have post-graduate degrees.
This correlation between solo traveling and education could suggest that higher wages lead to more disposable income, while broadened knowledge prompts the desire to gather intangible goods and more experiential learning.
Age
Solo traveling might seem exotic and limitless to the unseasoned adventurer, but that doesn't make it exclusive to a young audience.
Solo traveling has gained traction in recent years, and its audience has matured along with it.
There is an increase in baby boomers that are interested in solo travel, with 40% having taken a solo trip in the last year and 21% planning to take one in the future.
Gender
Women are more likely to travel alone than men – and this gap is widening all around the world.
Between 2016 and 2017, online searches for "solo female travel" grew by 52%, which is largely due to increasing female control of personal wealth and consumer spending. With a near 3:1 ratio of female to male solo travelers, it's imperative to consider gender when profiling the average lone journeyer.
Status
A solo traveler isn't necessarily a single person. Some people choose to travel alone because their travel interests differ from their partners', while some like the freedom and self-confidence solo travel provides.
Regardless of their motivation to experience something new, the vast majority say that seeing the world without having to wait on others is the primary reason that they set out alone.
The Solo Traveler Mission and Its Implications
Now that you've got a profile of the solo traveler and her/his background, you need to dive deep into what fuels their flight and figure out how you can use it to target them.
The solo traveler's mission is the same unique and authentic experience that all adventurers are looking for, but it also varies depending on the traveler's personal interests. Some solo travelers are empowered and are looking for new experiences to challenge them (while also being Instagrammable), while others might be looking to unwind and experience something more spiritual or mindful (which might include unplugging from social media entirely).
Solo travelers are making decisions on their own, which leaves a lot of room for impromptu influence across all travel and tourism businesses. Grab the solo travelers' attention by promoting sample itineraries that may spark interest in your destination's attractions.
Hoteliers can offer amenities to cater to solo travelers' "me-time" – including spa packages, personalized experiences and in-room dining options for one. Tour operators could consider waiving single-supplement fees to ensure solo travelers don't have to feel the pressure of group rates. Even cruise lines have become more flexible for the solo traveler; some having already started building out studio rooms on their ships to accommodate them, like Norwegian Cruise Lines.
Safety in a destination is important for the solo traveler, but instead of including security images in your marketing that may conjure unwanted imagery, highlight amenities that promote peace of mind like shuttle services, proximity to popular attractions and 24-hour front desk assistance.
Connecting with the Solo Traveler
With so many potential solo travelers across demographics, focus on storytelling for what your destination or hotel experience offers. In order to do this, you'll have to paint a solid picture of your ideal consumer and build a persona around them. Then, create content that shows how like-minded travelers experience your destination to entice potential visitors to want to collect the same experience.
"Tapping into influencers, such as solo-travel bloggers, can be a useful tool to differentiate your experience and help link your business to the solo travel market," shares Lisa Mohle, evok's travel and tourism category captain. "This could even include inviting an influencer to stay at your destination and write a blog about their experiences, giving their solo traveling followers a formal introduction to your business from a trusted resource."
Ultimately, the goal in attracting solo travelers is to have them promote your location to other lone journeyers or even return with their friends or families. Understanding and reaching the solo traveler market can open new doors for your business and move your destination to the top of the solo traveler list.