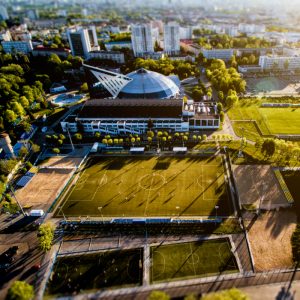 Two Simple Strategies to Market Your Sports Complex
Marketing Your Sports Complex
Whether you have recently opened the doors to a state-of-the-art sports complex or celebrated years in your community, having a marketing strategy and detailed marketing plan is the key to attracting clients, tournaments, attendance and more. Not sure where to begin? Read on for two straightforward strategies to implement in your sports complex marketing plan.
Host Community Events
What's a community staple without the community? A proven method to remaining on the minds of your potential clients is to maintain a consistent presence in your community. Hosting local events helps build that presence while prompting residents to visit your sports complex. From open houses to tournaments or fundraisers, events allow members of your community to explore your venue and solidifies your standing as a central hub in the community.
To promote your local sports event, focus your advertising at the local level. Target social media users who live nearby instead of spreading your advertising budget over a large area and reaching people that are too far away to attend. Scope out community bulletin boards and storefronts willing to display flyers for your event and make your marketing a communitywide effort.
Tap into Seasonality
Sports complexes often have distinct and consistent highs and lows throughout the year. First, it's the influx of business (and subsequent decline) brought on by the New Year, followed by a demand for activities for kids during the summer months, then a downslope with the return of school in the fall.
Market with timing in mind. At the start of the year, highlight self-improvement and workout classes, encouraging members to try new workouts and schedule classes in advance. Appeal to busy summer parents seeking opportunities to sign their children up for a sports day camp. Turn fall into a spotlight for your team sports leagues as kids look to join teams and adults search for some post-work pick-up games.
Whether it's your sports facility's first or fortieth year in operation, strategic marketing focusing on local outreach and seasonality can help attract the business complexes thrive on.