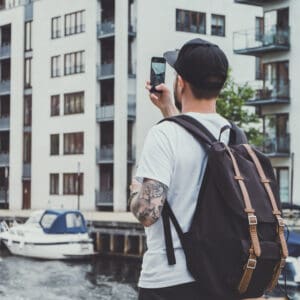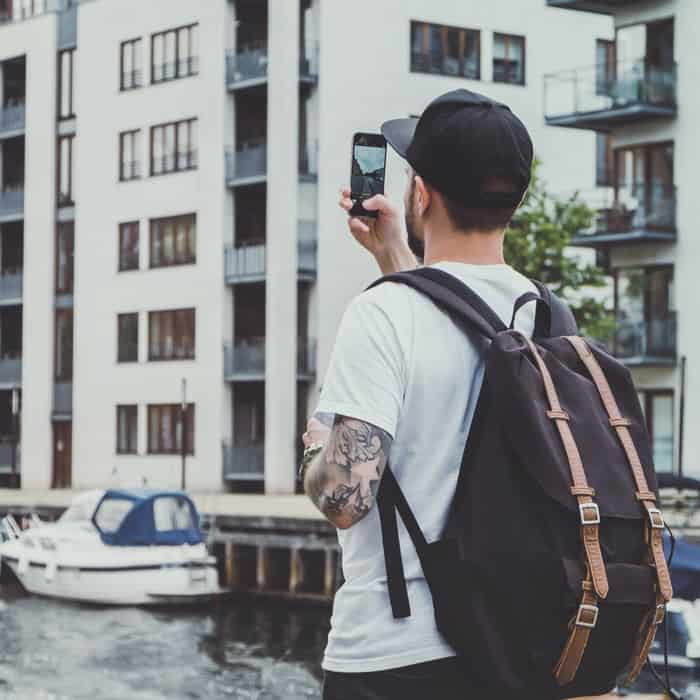 TikTok for Destination Marketing: Agency Strategies Taking Flight in 2021
When it comes to planning a vacation, each generation gets their destination inspiration in a different way. Gen X travelers may scroll various Pinterest boards and read blogs filled with aesthetically pleasing pictures and itineraries for their destination of choice. Millennials, on the other hand, spend their time on Instagram saving dozens of insta-worthy destinations, attractions, and restaurants for their future trips. But where does Gen Z get their travel inspiration? Interestingly, they are turning to a new key player in the social media landscape, also known as TikTok. So, how can destinations leverage this new social media platform to inspire TikTok influencers to come and stay awhile?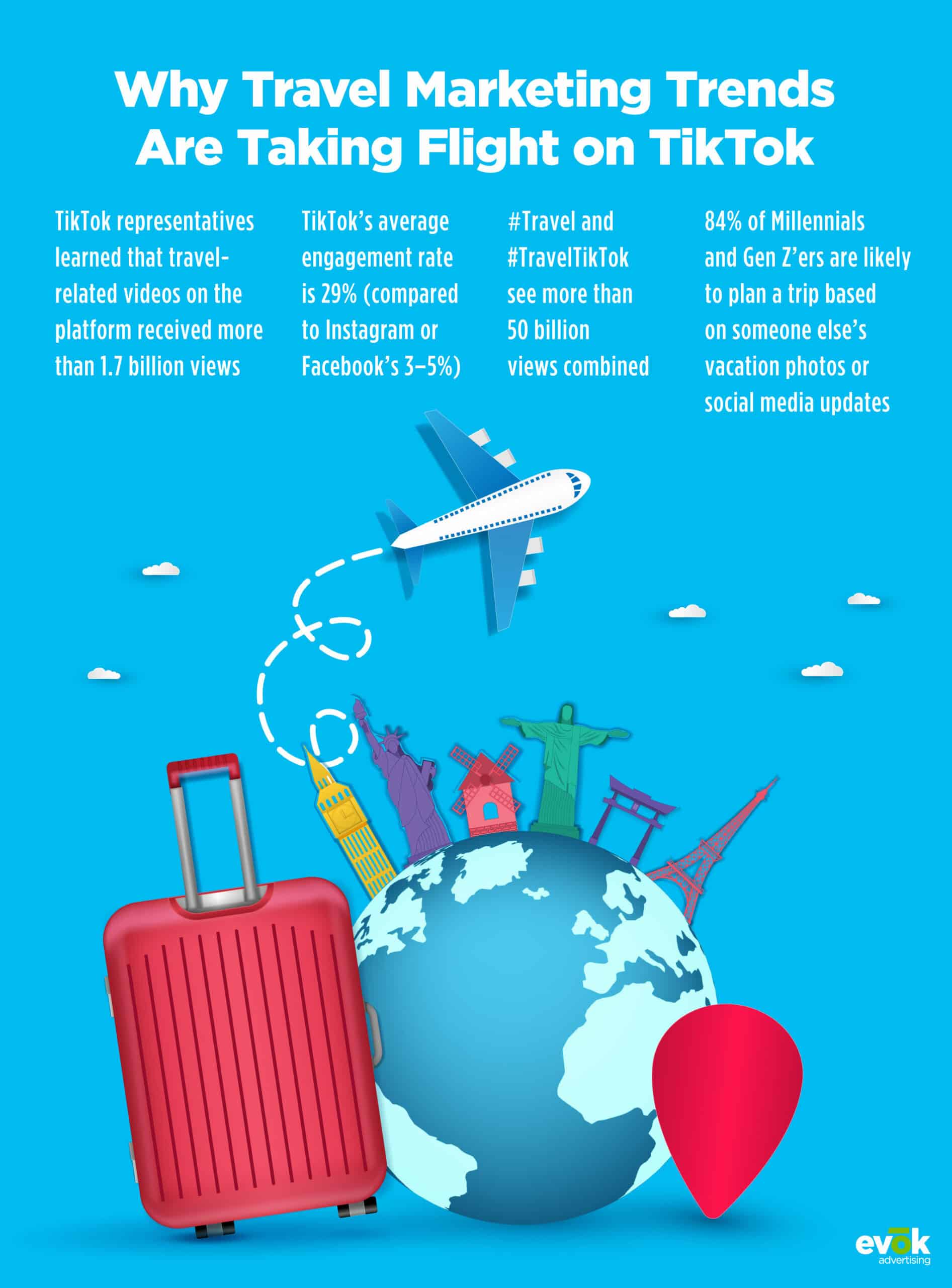 Why Should Destinations Create Content for TikTok?
Become an Early Adopter on #TikTokTravel
Few destinations and travel agencies have jumped on board with this new social media platform, giving you a chance to stand out, set the standard for travel content, and become a valuable voice for users looking for travel inspiration.
Travel content with hashtags such as #Travel and #TravelTikTok sees more than 50 billion views combined, and entering a platform with little competition will ensure that all eyes are on you. Now is the time to take advantage of this untapped new, younger audience!
Here are a few benefits of becoming an early adopter on a new social channel:
Secure a username that fits your DMO or your company's personality and brand. If you're a new travel agency, or you're a destination just starting to dabble in social media marketing, you know that most clean and memorable usernames are already taken.
Build recognition for your travel and tourism organization with a unique hashtag. One of the most popular hashtags happens to be #TikTokTravel, which can be adapted per country, state, county, or city, such as #TikTravelSeminoleCounty or #TikTokSpain.
Make sure all eyes are on you. Since most travel and tourism organizations have yet to join TikTok, you can create content that will attract users on the For You Page and make sure they are engaging with your content. TikTok's average engagement rate is 29% (compared to Instagram or Facebook's 3-5%), so you definitely need to get in before it gets crowded.
Get Your Content in Front Gen Z
As of April 2021, TikTok has been downloaded more than 2 billion times globally, and it is the fastest growing social media platform. Over 60% of these TikTok users are Gen Z, and over 84% of Millennials and GenZers are likely to plan a trip based on someone else's vacation photos or social media updates. So, it is integral that destination marketing organizations and travel companies hop on the platform and make the most out of short-form video marketing.
While the larger part of Gen Z are between the ages of 10-17 years old, today's teens are tomorrow's travelers. It's also important to remember that teenagers and young adults play a role in planning family trips. Seventy-five percent of parents involve their children in the holiday decision-making process.
What Kind of Content Should Destination Marketers Create for TikTok?
The beauty of being an early adopter means you can be wile an experiment with different kinds of content and see what works best for the users on the platform. Don't be afraid to explore new ways of storytelling. Be authentic, and make sure to display your destination's personality.
TikTok users don't expect your content to be 100% polished, so just grab your smartphone and start making some videos. Consider posting reviews of your team's favorite restaurants at your destination. Or maybe publish a series of short videos showing a 24-hour itinerary a visitor could follow when on their trip. You can also consider partnering with local bloggers and influencers to create similar videos and use your hashtag to promote your destination even more.
For example, @TheNomadicSunny created a TikTok that highlighted a hidden gem in Florida. They stitched together different shots of the park, the spring, and the couple tubing down the river:
Maybe you want to generate some wanderlust with jaw-dropping landscapes like in this TikTok by @RenaeMalone:
TikTok Best Practices for Destination Marketers and Travel Brands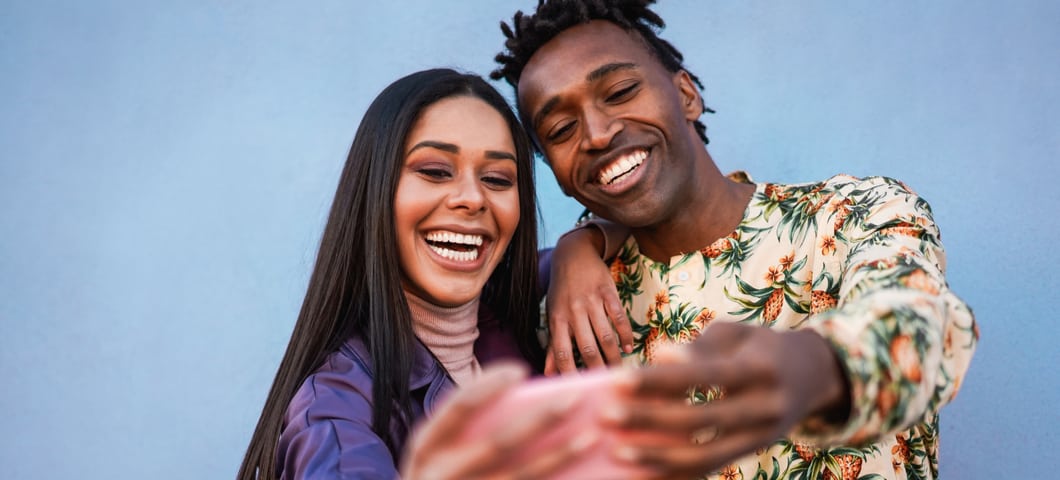 Here's what we suggest you do first:
Download the app and secure your username.
Stop. Don't create videos yet, just watch them.
Look through travel videos, understand the trends, and follow other travel industry accounts to inspire you.
See what content is doing well and get a feel for the algorithm.
Need some more guidance? Here are 4 do's and don'ts to help set your TikTok account on the right path:
DON'T:Focus on the number of followers you have
TikTok isn't like Instagram or Facebook where the more followers the greater the advantage. TikTok emphasizes content first, not so much the sender. Because of this, the algorithm favors posts that generate a lot of interactions in the first hour. With the right content, it doesn't matter if you have 10 followers in order to achieve tens of thousands of views.
DO:Let your brand's personality shine
TikTok users crave authenticity. Show your employees, behind the scenes of creating the videos, or office adventures with your marketing team. Personalities are what keeps users coming back to #TravelTikTok so make sure that yours is big and bright.
DON'T: Forget about Duets, Reactions, and Stitches
These are features on TikTok that give users the opportunity to interact with your content and let you interact with content that is user-generated. For example, say someone posts a video saying all they did in Florida was visit theme parks. If you're a smaller Florida city trying to raise awareness and bring in more tourists, you could Duet the video and give them some ideas for fun activities they could do in your town the next time they are in Florida.
DO: Ride the "challenge" wave
After the dance and lip-syncing videos, "challenge" videos are the top content that TikTok users like to consume. Join a challenge or create your own, either way, don't miss out on a great opportunity to engage with your audience. A cultural landmark in Singapore, Wisma Geylana Serai, launched a challenge campaign to encourage people to learn the steps to a traditional Malay dance, often performed during Ramadan. Their #TepukSepuluh hashtag was trending and they received over 1,300 video impressions, boosting awareness of their location on a global scale.
Travel TikTok is taking flight, so it would be to your advantage to ensure that your destination and travel brand are there. Need help creating content? Looking for more tips on content creation for video marketing? We would love to give you a hand.