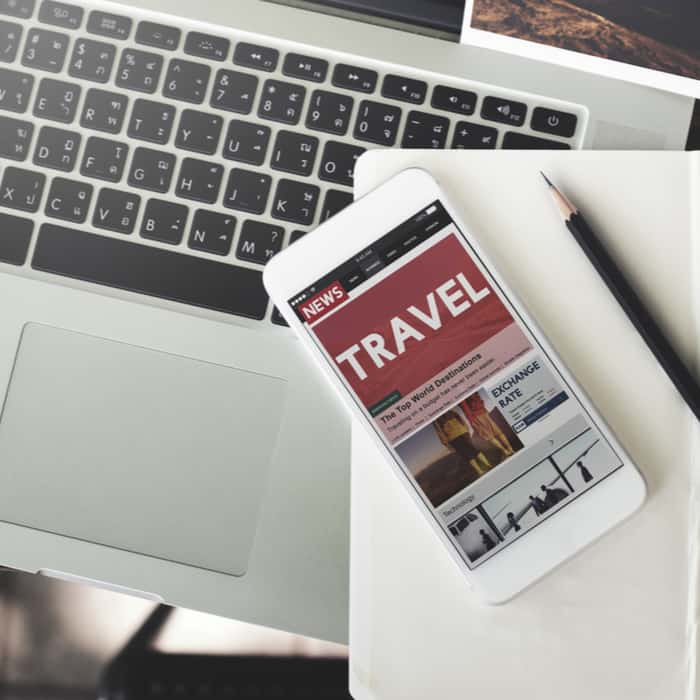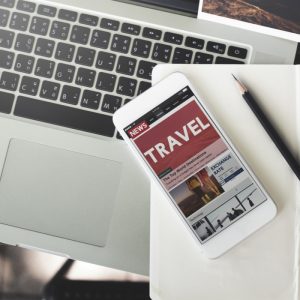 Travel SEO Tips: Crushing Organic Search for Your Destination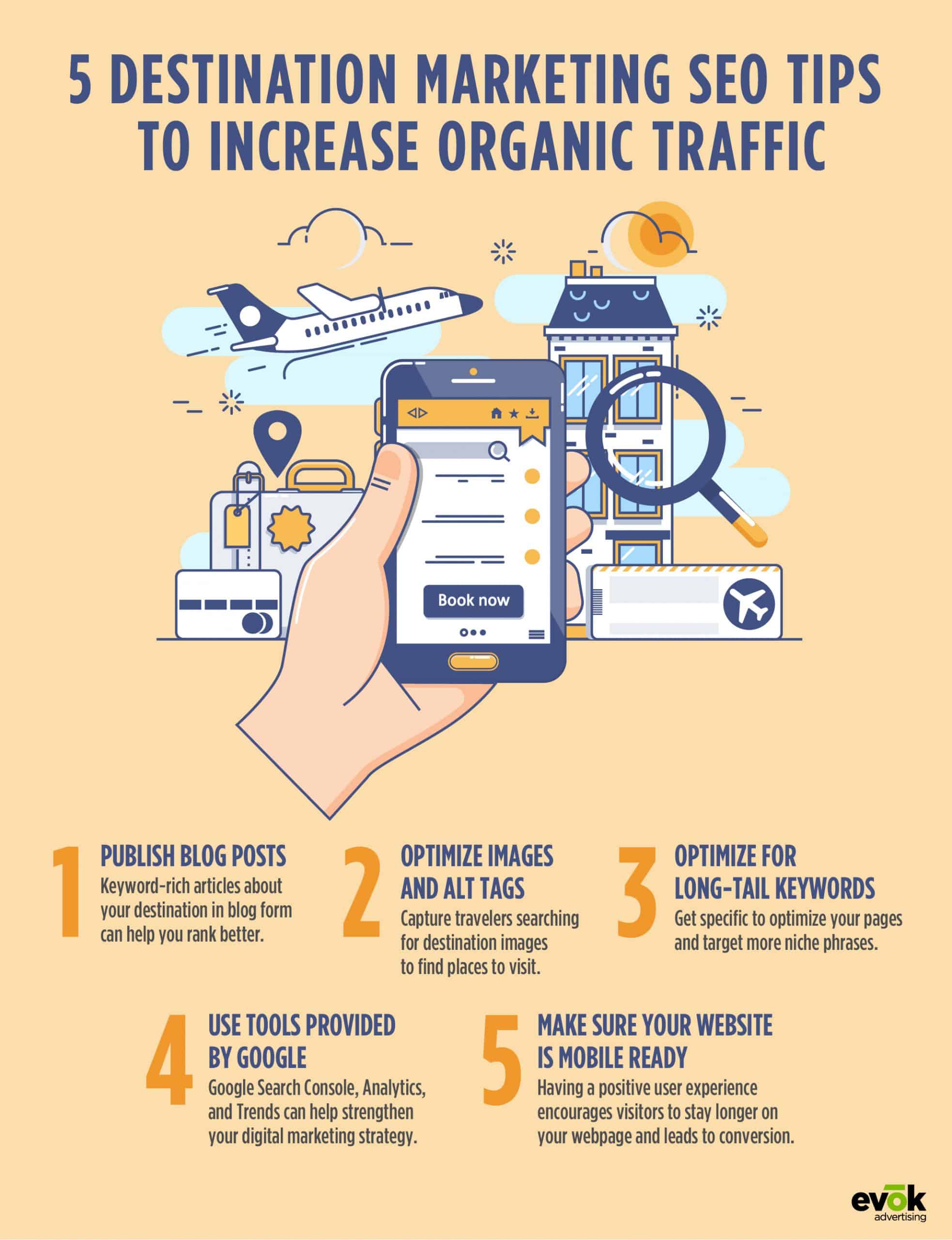 How do you score that coveted spot atop Google's search results? The answer is through a strong SEO digital marketing strategy. When planning a trip, your potential travelers are asking all kinds of questions – where should I go? What should I do in the location I want to visit? If your destination's website has an answer to those questions with the content on your website, you'll be on the path to success. We've put together a few travel SEO tips to help you optimize and create content on your destination's website to help you increase organic traffic.
Run a Travel Blog
Search engines love new content. In fact, search spiders give blogs a higher priority in rankings than static pages. Adding keyword-rich articles about your destination in blog form can help you rank better. Google will recognize your site over your competition that most likely doesn't have a blog and you will have the opportunity to showcase your destination's most attractive sights and activities.
Travel and destination content containing lists and photos always work incredibly well to generate social media traffic, natural links, and organic traffic. This Is Cleveland, Cleveland, Ohio's DMO, has an active blog that highlights some of the city's best attributes and things to do. They post a wide variety of content, from family-friendly hikes and free things to do to spring pride and places for marriage proposals. At the beginning of the year, they did a series of music itineraries visitors could enjoy depending on their different musical preferences. This is Cleveland created 48-hour itineraries for a range of music genres including classical, indie, soul, and pop.
Find creative ways to inspire people to visit your destination and experience everything you have to offer.
Optimize for Long-Tail Keywords
Long-tail keywords are highly specific search phrases that meet the user's search intent. These keywords have low search volume, low competition, and typically higher conversion rates. They are called "long-tail" because if we were to plot the keywords by their search volumes, they would be on the "long tail" end of the search demand curve, which means fewer people are searching for these terms each month. However, despite lower search volumes, long-tail keywords are easier to rank for and result in high conversions because they communicate a clear customer need that you can solve.
People search for some pretty specific stuff when they're looking to book a vacation. This is the perfect opportunity to optimize your pages and target more niche phrases. For example, instead of focusing on ranking for "Juneau, Alaska" try optimizing your pages to rank for "whale watching tours in Alaska." This way, instead of reaching people who may simply be searching for the history of Juneau, you are now targeting users who are looking for a specific activity to do while visiting and will probably convert faster since they are at the latter stages of the travel buying cycle.
Use Tools that Google Provides
Google has many tools that can help destination marketer's better their digital travel marketing strategies and their Google rankings. Each tool has its own particular advantage, but when used all together, you can create a long-term strategy that benefits your business year over year.
Google Search Console
Submission of your website through Google Search Console isn't a necessary step to be seen in Google search, but a brand-new website or a site with big changes can submit its URL directly to help the GoogleBot quickly add your website to Google's index. This tool also helps you monitor, maintain, and troubleshoot your site's presence in Google Search results. Some reports offered by Search Console include:
Confirm that Google can find and crawl your site.
Fix indexing problems and request re-indexing of new or updated content.
Troubleshoot issues for AMP, mobile usability, and other search features.
Google Analytics
Google Analytics gives you a deeper understanding of your customers and allows you to create specific target audiences for your destination. It also helps you measure SEO success by analyzing if organic search traffic volumes, advertising ROI, as well as track your video, social networking sites, and applications.
Google Trends
With Google Trends, you can determine how frequently a given search term is entered into Google's search engine relative to the site's total search volume over a given period of time. This a great tool to use for comparative keyword research and to discover event-related spikes in keyword search volume.
For example, the long-tail keyword "when can I travel again" has been increasing exponentially since the beginning of the Coronavirus pandemic in the United States. Destinations can leverage this keyword by promoting what precautions your city or country is taking in order to ensure tourist safety, as well as highlight safe, social-distancing activities travelers will be able to participate in once travel bans are lifted.
Make Sure Your Website is Mobile-Ready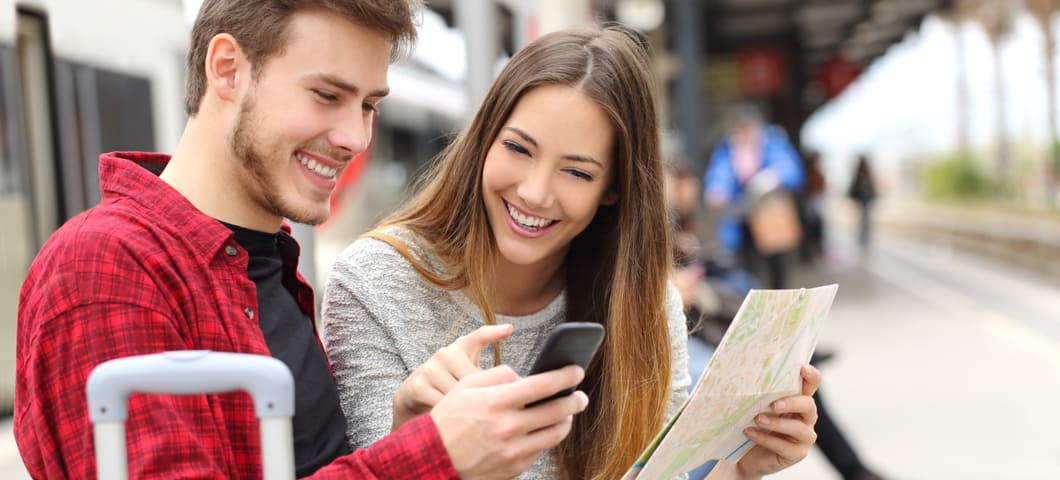 In 2018, Google announced that first sites are being moved to the mobile-first index, meaning that every page without a responsive design will not be shown on search results or will be moved down in results as opposed to responsive websites. Not only do mobile-ready websites help your rank on search engines, but it also helps generate traffic. Websites that aren't mobile-optimized saw an average of 5% decline in organic traffic.
Taking this into consideration, as it is very important to have a responsive webpage. When designing a mobile-ready website, remember to keep in mind the improved user experience. You want your webpage to be as easy to maneuver on a smartphone as it is on a desktop computer.
Optimize Images & Alt Tags
Optimizing images and alt tags can be a time-consuming task, but destinations can benefit greatly. When planning a trip, travelers often search destination images in their search engines to explore places they wish to visit. By having optimized images, you increase the already high potential of image search. Not only will your organic traffic increase, but images are one of the highest converting traffic sources for destinations.
Optimize your image alt tags with a description of what they are about and use targeted keywords. It's also important to name your image file related to your alt tag so Google sees the consistency in keywords.  
There are a lot of steps you can take to improve your destination's SEO, and starting with these five tips are a great way to climb towards the top of Google's search page. If conducting keyword research and translating that into content sounds overwhelming, hiring a marketing agency with experience in destination marketing and SEO services may help lighten the load. At evok advertising, we connect destination brands and travelers with results that drive expansion for our clients. We can help build your destination's SEO strategy and make sure that your location is getting the visibility it deserves.