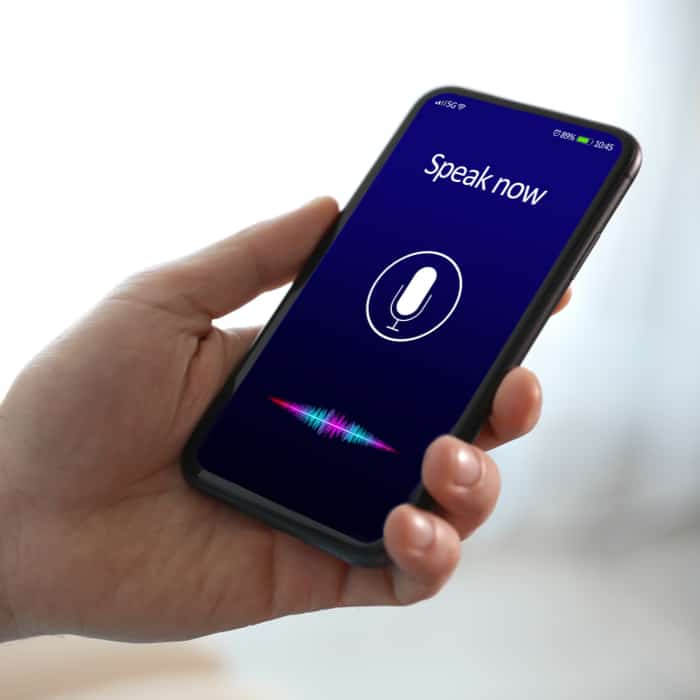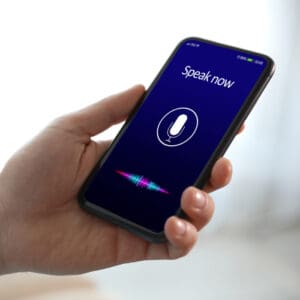 Healthcare Marketing with Voice Search: The Future of Healthcare SEO
Almost everyone we know has some form of a virtual assistant, whether it's Siri built into your iPhone, an Amazon Echo, or a Google Home. Voice search and virtual assistance aren't new, but their technology is becoming more prevalent as users are getting used to using voice commands, hooking their homes up to smart devices, and making more web searches via voice.
Since a growing number of users are using their Google Assistants or Siris to search the web, voice search is becoming one of the most commonly used search engines for healthcare search queries. As more users start asking their assistants for medical advice or looking for nearby doctors' offices, it's important for healthcare practices and businesses to stay on top of these search trends and ensure their web pages are optimized for this new mode of digital search. Below, we break down the trends, statistics, and tips on how to optimize your web pages to come up first when your target patients ask voice assistants for a healthcare recommendation.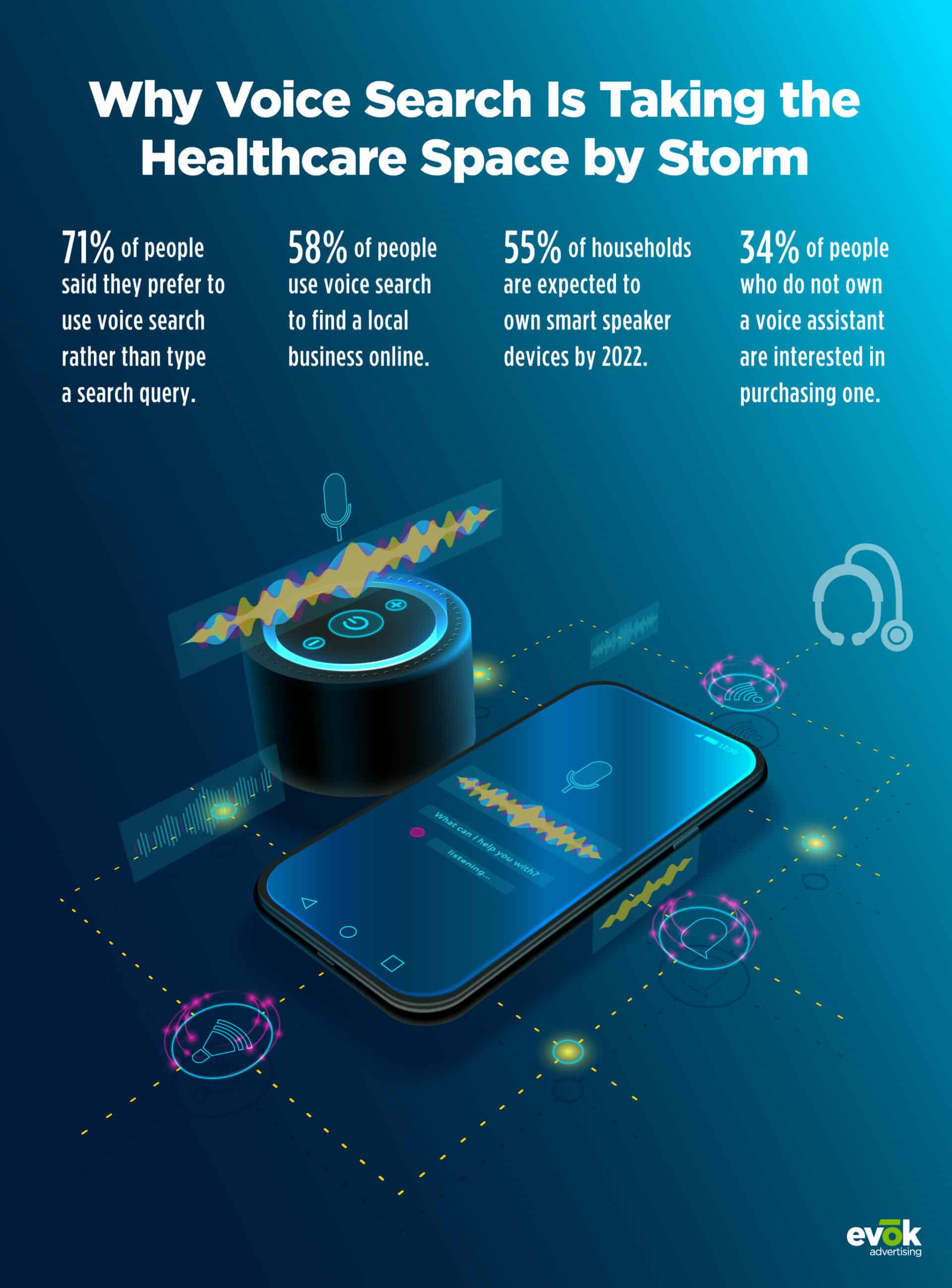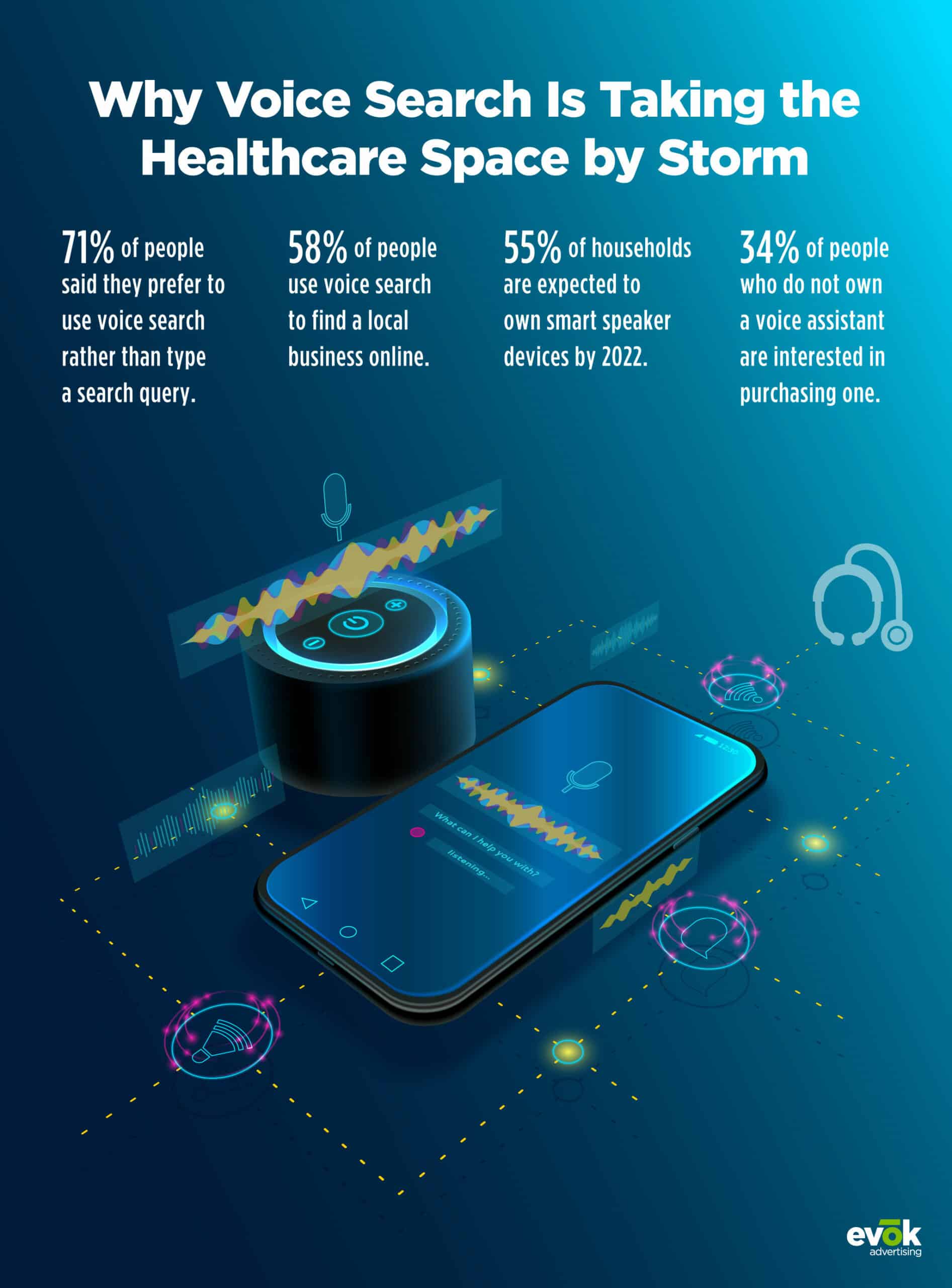 Why People Prefer Voice Search
The numbers indicate that voice searches are about to lead our search volume in the next few years. Users are finding that voice searches feel more personal and conversational than typed searches. Rather than typing search queries into a browser and being bombarded with multiple websites, maps, ads, and extraneous information, users are given one singular "snippet" of information to make their decisions. Since users aren't seeing or scrolling through multiple web pages with information, SEO for voice search is crucial to get your healthcare practice marketed to your target patients.
Users are also more likely to make detailed or complex requests in a voice search that they wouldn't make in a text search. For instance, they might type in "doctors near me" on a computer, but might ask: "Hey Google, find a highly rated dermatologist near me." to their smart speaker assistant. This trend in search queries makes sense, as most of us type differently than we speak. Additionally, users feel more comfortable making conversational requests to their smart speakers, since Siri, Alexa, and Google Assistants' friendly voices make users feel like they're talking to another person in the room.
How Does Voice Search Impact Healthcare Searches?
When it comes to healthcare, users want and expect an instant answer. The searcher might be anxious about a symptom they are experiencing and wants an immediate explanation or remedy. Perhaps the user needs directions to the nearest ER quickly and doesn't have the time to scroll through multiple search results and maps. Voice search is more action-oriented than type-and-read searches as users who are using voice search are often on the go or already in the car.
Sixty-five percent of users who search for healthcare information via voice search are usually searching for information on symptoms, home treatments, or disease information. Researching what healthcare keywords or queries are trending in your area or for your service categories will help you optimize your content to show up for those patients with questions or concerns your practice can answer.
According to Google, the top 10 most popular health-related questions searched for were:
What causes hiccups?

What causes kidney stones?

How long does the flu last?

What is normal blood pressure?
(Source: Zion and Zion)
How to Optimize SEO for Voice Search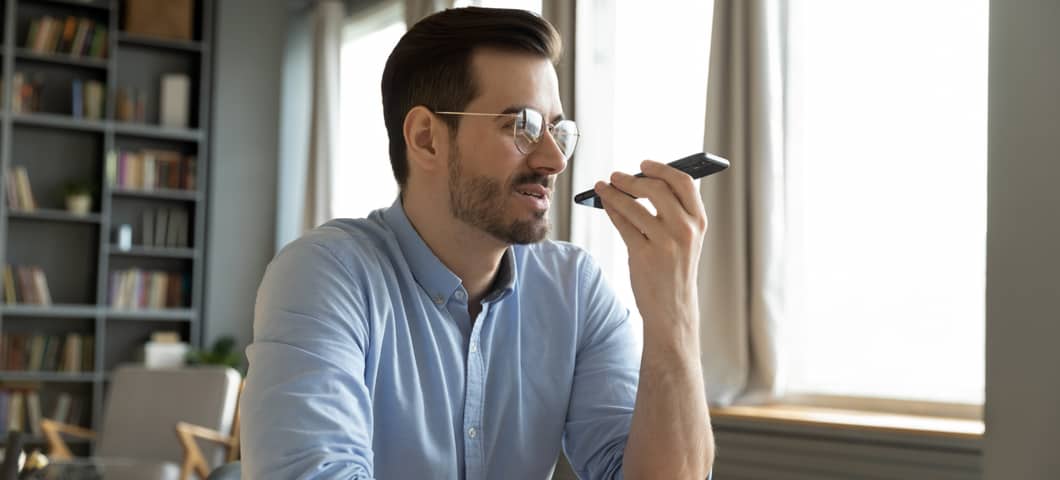 To get the most out of your keywords and optimize your healthcare marketing efforts to voice search, you'll have to change the way you word your keyword bids. Short keyword searches are great for targeting type-and-read searches, but long-tail keywords and phrases are going to be most beneficial for voice search.
It's also recommended that you post conversational-style articles and posts that answer questions that your target patient would potentially ask when searching for a practice like yours. Look at longer-form keyword searches and include those phrases and questions into the body of your posts and articles on your website. For example, if your target patients are those who need a specific kind of surgery, you'll want to optimize your web pages to pop up when users ask for "5-star orthopedic surgeons" or "Best knee replacement surgeon in my state".
Voice search is most relevant for service lines like Urgent Care, ER, and Primary Care. However, that doesn't mean it's not important to optimize and improve your healthcare marketing efforts for voice search, even if your practice isn't necessarily "on the spot" healthcare.
For Organic SEO:
Make sure your Google, Bing, and Yelp listings are up to date. Include photos, most recent hours, and a robust description with keywords and your service categories. Make sure that your description is consistent across Google, Bing, Yelp, and any other sites your business is listed on.
Get your product/service-specific articles and blog posts listed as a featured snippet.
Make sure your location is ranking well on Google maps. You can check how you are currently ranking by searching for a service you provide ("Hey Siri, find a dermatologist near me.") and see where your practice comes up in the list. Your Google Maps ranking is based on how complete and accurate your Google My Business listing is. Google only wants to promote businesses and practices that have the most information available.
Voice Search is going to continue to take over the way users search for information on the web. Its simple Q&A style interface keeps answers brief, alleviating the decision fatigue associated with type-and-read search queries. While users become more and more dependent on their assistants to decide what information is most important, marketers must adapt to make sure their products and services are in alignment with new voice search SEO strategies.