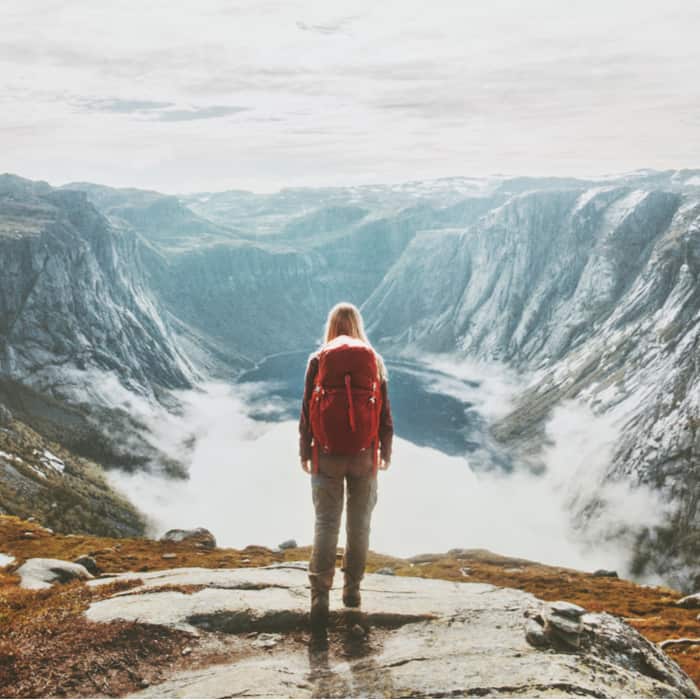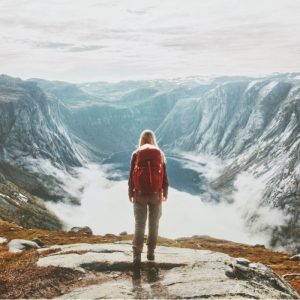 Wellness Tourism: Attract Health-Conscious Travelers to Your Destination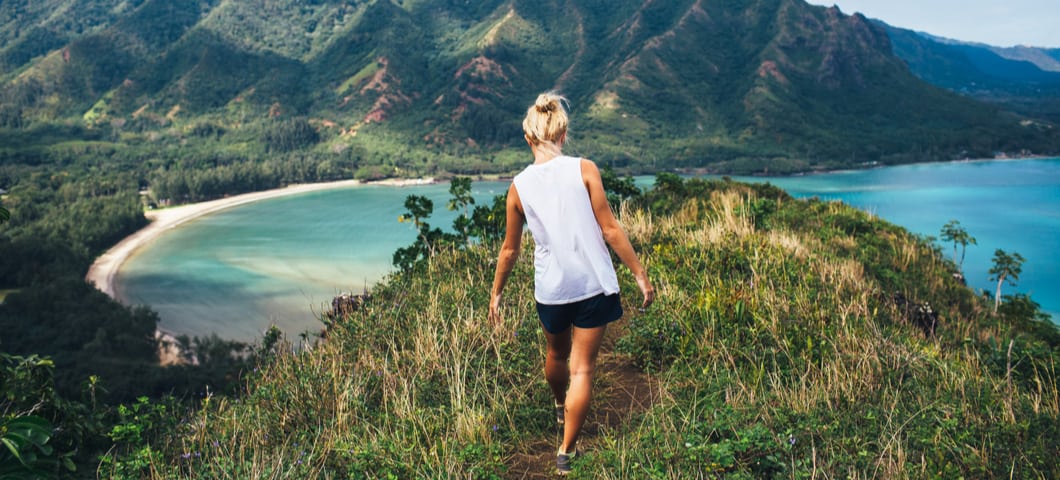 Travel is good for the soul—we've all heard the phrase and if you've ever wondered just how much truth there is to that claim, there is now a multi-billion-dollar facet of the tourism market dedicated to it. Set to be a $919 billion industry by 2022, wellness tourism has consistently outpaced the rate of growth for tourism as a whole since 2015 and shows no signs of slowing down.
Health-conscious travelers are planning for their next adventure. How can you ensure your destination makes their consideration set? Keep reading for our take on wellness tourism and the travel trends travelers search for in a health-forward destination.
What Is Wellness Tourism?
Defined as travel dedicated to upholding or improving one's personal wellbeing, wellness tourism ranges from physical health to the psychological and spiritual planes for a holistic approach to reach what makes us feel our best. Spa days, fitness classes, spiritual retreats—a variety of attractions and activities fall under the realm of wellness travel. That means even destinations not known for their vast outdoor or active offerings can attract travelers searching for ways to boost their health both inside and out.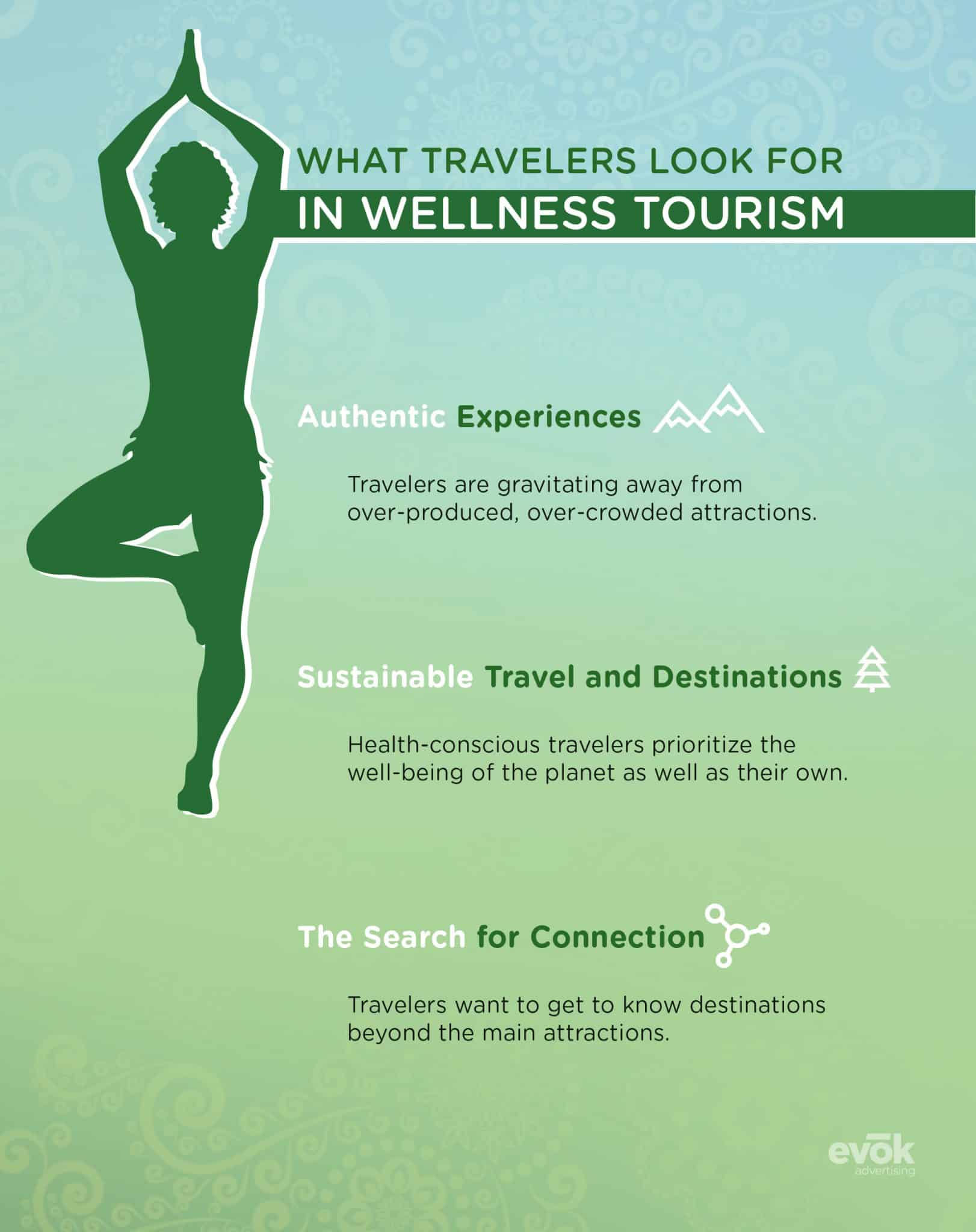 Though often confused, it's important to note wellness tourism and medical tourism are not the same thing. A rule of thumb to differentiate the two is medical tourism is reactive and often follows a diagnosis, illness or injury, while wellness tourism is proactive and focused on preventing these conditions and maintaining our wellbeing.
Definitions aside, the growing popularity of wellness tourism has already made a significant impact on the travel industry as a whole, and experts agree it will continue to do so in the coming years. So how, as destination marketers, can we connect with and attract health-conscious travelers?
Travel Marketing Trends: What Travelers Look for in Wellness Tourism
Prioritizing Authentic Experiences
The appeal of local, authentic experiences has earned a spot amongst the top motivators for travel. As travelers gravitate away from over-produced, over-crowded attractions, opportunities arise for off-the-beaten-path experiences to shine.
For destination marketers looking to tap into the wellness tourism market, these hidden gems take center stage. And one of the most effective ways to bring those local experiences to light? Let the community speak for itself. Local influencers can be your destination's most powerful resource when it comes to attracting modern travelers, particularly health-conscious ones.
But before you scour your surroundings for your next big attractor and hire influencer to tell your story, remember travelers can sniff out a marketing ploy from a mile away. Be sure real-deal adventures you're promoting are a true representation of your destination, your culture and your locals.
Choosing Sustainable Travel and Destinations
Sustainability and wellness tourism go hand in hand—health-conscious travelers often look to prioritize the wellbeing of the planet as well as their own. From searching for greener alternatives to air travel to eco-friendly hotels, wellness-focused tourists want to leave a positive impact on their surroundings while enjoying the active, healthy activities and attractions a destination has to offer.
Travelers look for destinations and hospitality brands actively looking to protect the environment, whether it is implementing a citywide electric public transportation system or launching a water conservation program. While becoming a sustainable destination is not an overnight process, there are a number of small steps you can take to position your brand to connect with health- and eco-conscious travelers. Even something as simple as phasing out straws at local eateries or offering in-room recycling at hotels can help your destination align with wellness tourists' values.
The Search for Connection
While the wealth of information available online and the convenience of online booking keep some aspects of the travel experience in the cloud, more travelers have begun putting in-person connections on their itineraries. In an era of instant sharing and social media mania, real connection can seem all but lost. However, just as authentic experiences are winning with travelers, the search for connection with people and places has blossomed in recent years, particularly with travelers hoping to give their trip a psychological or spiritual spin.
Travelers want to get to know destinations beyond the main attractions, and believe deeper connections to the activities or places they visit to be one of the pillars of a wellness-focused experience. This is evidenced by the growing popularity of Airbnb and private vacation rentals. These accommodations often place tourists under the same roof as locals familiar with the area and its offerings, allowing travelers to get that "authentic experience" they crave.
How Smaller Destinations Can Benefit from Wellness-Centered Travel
Although premier destinations like Las Vegas or New York City offer travelers plenty of opportunities for rest and relaxation in the form of spas and boutique fitness studios, the boom in wellness tourism has created an opportunity for smaller cities to compete. Health-conscious travelers searching for an active getaway or a way to reconnect with nature may widen their consideration sets to include off-the-beaten-path destinations in efforts to avoid the masses of "overtourism."
Keeping in mind the modern traveler's desire for authenticity, sustainability and connection, as well as their commitment to health and wellness, destinations can develop marketing strategies to attract health-conscious visitors.