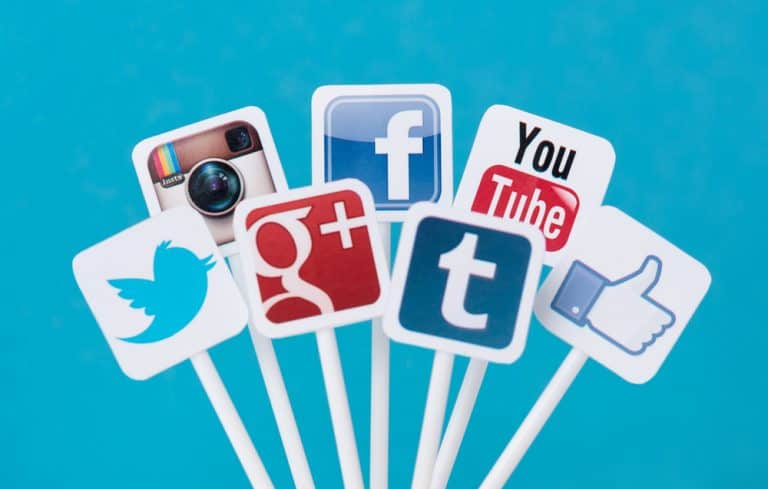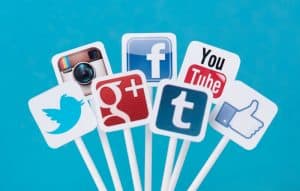 You're Missing the Mark on Customer Connections
How to build stronger and more meaningful relationships
Consumers are more digitally connected than ever before, now arming them with the information to be more insistent on truth and quality. In fact, a recent Nielsen report states the average U.S. consumer spends approximately 60 hours a week absorbing content online. This abundance of knowledge significantly increases the expectation customers have of your credit union. The fact is – customers expect you to connect and engage with them; they expect you to know their wants and meet their needs; and they expect you to provide the best experience possible. Finding new and improved ways to connect with customers online is a great tactic to better understand them and deliver a satisfactory experience; but where is the disconnect happening right now?
Multiple recent studies of the banking industry have all arrived at the same overarching conclusion – a majority of customers lack faith and trust in banking institutions, including their own. Edelman's 2014 Trust Barometer reports 'financial services' as the least trusted industry globally, with only 50 percent of consumers in the U.S. having trust in their own banking institution. However, when compared to banks, credit unions experience relatively higher consumer satisfaction. According to a report by the American Customer Satisfaction Index, in 2014 credit unions scored an 85 in customer satisfaction on the 100-point scale. Banks sit at a score of 76 with larger institutions within this category falling as low as 69. This is likely due to consumers seeking lower fees and higher quality service. Because fees are inevitable, building stronger relationships and providing quality, dedicated service seems to be key in maintaining loyal customers. There is still plenty of room for credit unions to grow customer satisfaction and create meaningful and lucrative relationships.
Create Meaningful Social Media Content
Engage with your customers through the content you share on social networks to build stronger relationships. Research shows that 7 out of 10 consumers prefer a business with a social media presence, and 82% of customers trust a company more if they are involved on social media (allowing for transparency). More specifically, according to Adweek, 55 percent of customers would trust a financial institution more if they received helpful, unbiased content from them. By sharing meaningful content, such as money-saving advice and investment tips, along with non-finance related content, you will boost engagement and generate recurring customers. This shows an unselfish interest in truly serving your consumer base (instead of always appearing to push a sales message and have something in it for you) and positions your credit union as a reliable "go to" source of information, furthering the trust your customers have in your credit union.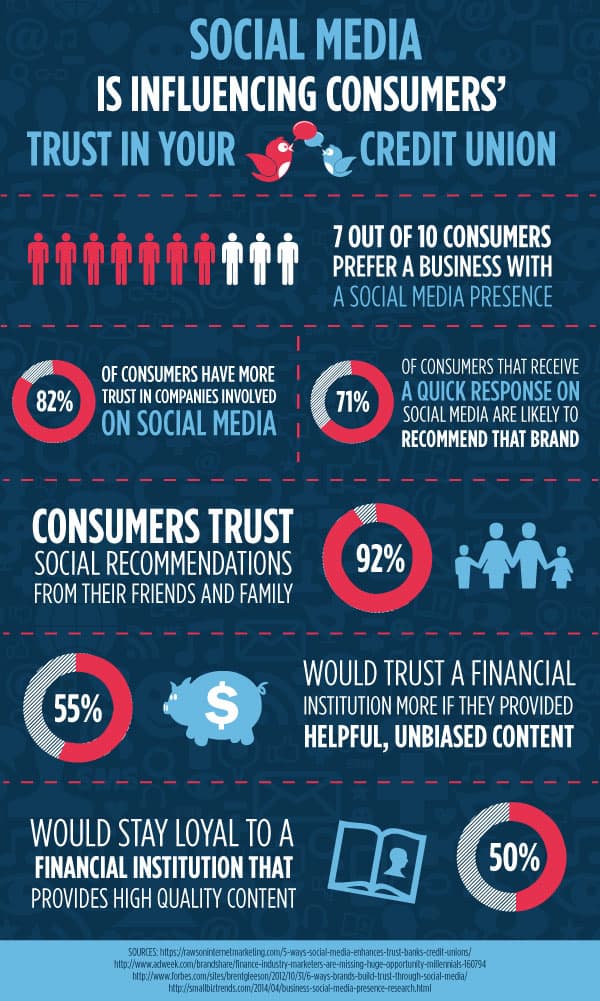 Communicate the Value Proposition
Today's customers have minimal loyalty to their financial institutions, providing credit unions the valuable opportunity to express to customers the value of banking with your credit union over other available options. The growing dissatisfaction and mistrust is a result of the perception that banks profit from customer fees. In addition to conventional charges for overdrafts and minimal balances, most banks are imposing new fines with the sole intent to generate more revenue from customers. It is important to communicate that your credit union puts customers before profits by offering lower and fewer fees. Use your social media platforms and other marketing materials as communication channels to be clear and open with your audience about your fees and rates. Win over new customers and improve the loyalty of current members by demonstrating how your credit union actively puts them first.
Provide Better Services
Establish a higher quality experience for customers by offering a unique digital service that appeals to their needs. Mobile applications that offer on-the-go banking are a great (and highly demanded) way to improve access to services that were previously only available in person. Additionally, an aggressive social media strategy that includes ongoing, timely monitoring and responding to customer service questions and issues will establish your credit union as a service-oriented and up-to-date institution. In fact, 71% of consumers that receive a quick brand response on social media are likely to recommend that brand to others. Further strengthening your reputation for customer service will ease customers' worries that come along with entrusting their financial earnings to an outside party.
Faith and trust in credit unions has diminished in recent years, but making these adjustments will assist in improving your customer relationships. Opening communication channels through digital networks allows your credit union to improve transparency, better understand your customers, and provide better experiences to position your credit union as reliable and trustworthy.