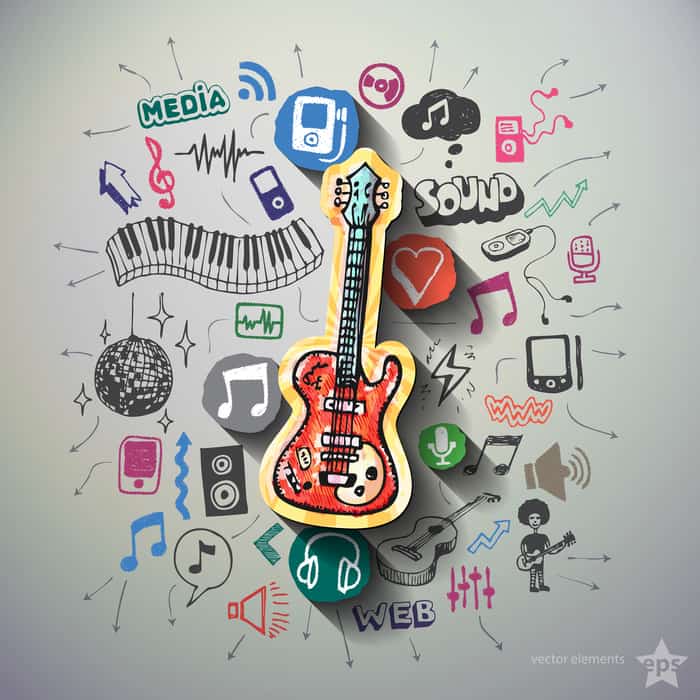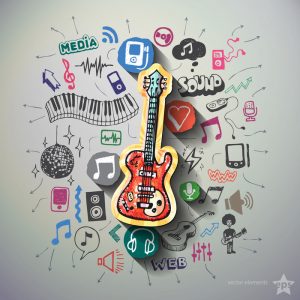 Social Media in Tourism Entertainment Marketing: What's Trending in 2020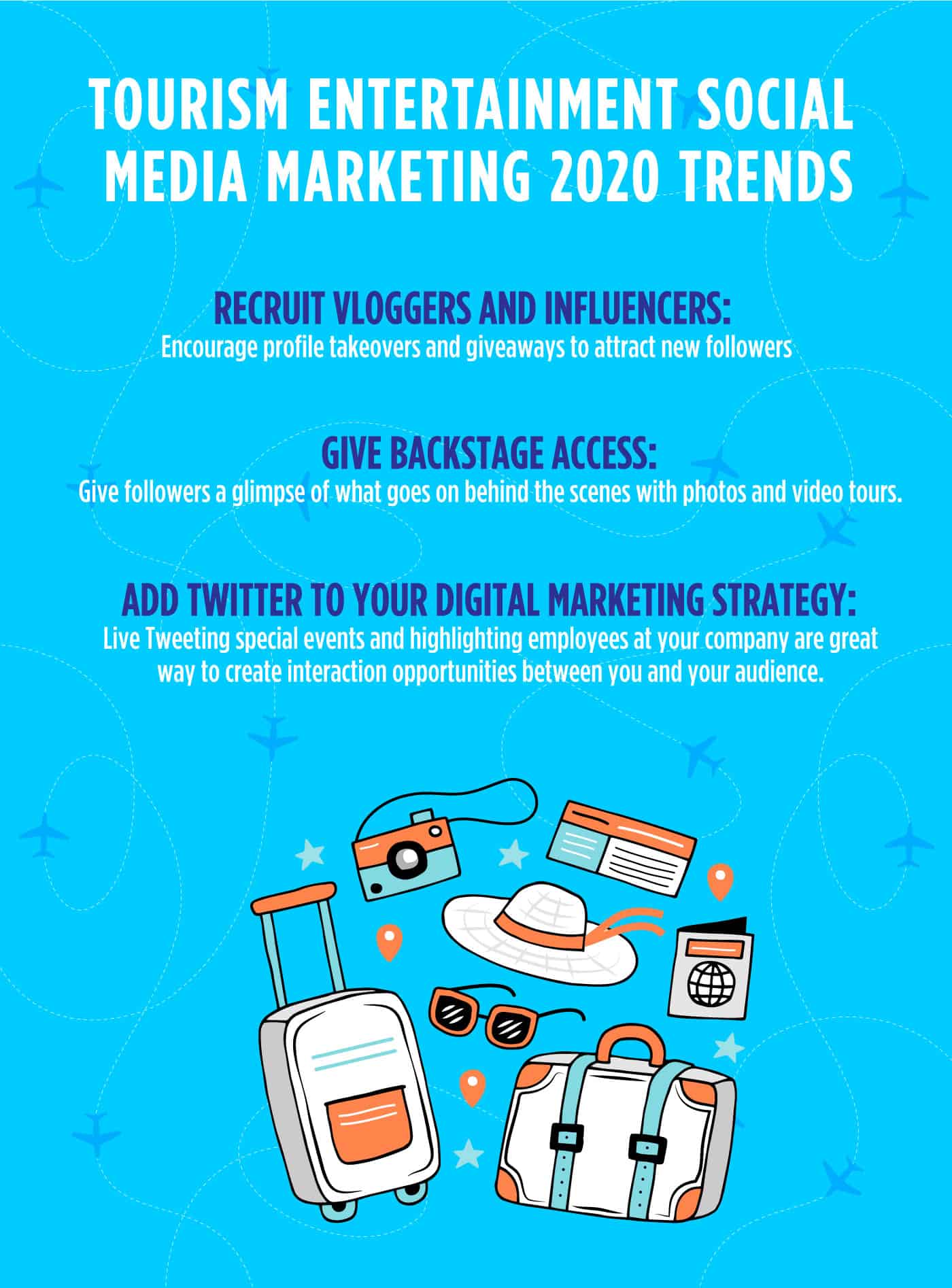 Social media has transformed the marketing world as we know it. Some may even say that it is killing traditional advertising. In 2017, digital ad spends jumped to $209 billion worldwide (41% of the market), as opposed to TV ads that reached only 35% of the market. And just like any other hospitality industry, tourism entertainment companies have a lot to benefit from promoting themselves and their products or services on social media platforms. So, it's not surprising that a Facebook study found that the tourism entertainment industry accounted for 63.2 percent of all marketing posts across six different industries (retail, telecom, auto, food, beverage, and financial services), making it the most active industry on social sites. With that said, it's important for social media marketers to stay up to date on current trends so their business can stay on top. Take a look at what is trending in social media tourism entertainment marketing this year.
Recruiting Vloggers and Influencers
Celebrity endorsements are out, and influencers are in. The current reality is that YouTube and similar platforms, like Instagram or Snapchat, are creating celebrity personalities, or influencers. And with their organic rise on social media platforms comes great power when it comes to marketing. Hiring an influencer or vlogging sensation not only allows you to access a mass-market instantly, but you will reach your target audience, guaranteed. Influencer marketing is effective, efficient, and a must for marketing professionals in the tourism entertainment sector in 2020.
As an example, Chase Russell (@imagineerinsta) was asked by Visit Anaheim to make posts about Disneyland's seasonal offerings in the month of October. He took over the @VisitAnaheim page for a day and posted Instagram stories about events the Disneyland had to offer, as well as highlights about the Anaheim Marriott. In the first 36 hours of the campaign, @VisitAnaheim received 1,000 new followers.
In addition to the Instagram takeover, Russell directed followers from his account to follow Visit Anaheim's page to enter for a chance to win tickets to Mickey's-Not-So-Scary-Halloween-Party. Russell's followers already enjoyed his content, so they trusted what he had to say. His efforts led to a dramatic increase in followers for Visit Anaheim and his page.
Go Behind the Scenes
Followers love to learn more about what goes on behind the scenes of a show or event. Whether you're a major theme park or a local dinner theatre, letting the audience in on what it takes for it all to happen is a great way to build a relationship. It also piques their curiosity for the final product and may encourage them to purchase tickets to see for themselves.
Take photos or videos of behind the scenes action, like the costume department or what goes on to create a new ride. Give them a tour around the sound booth or a glimpse backstage on opening night. It doesn't always have to be product-driven, let your personality shine through and have fun. Make communications casual and centered on interacting with followers.
At Evok, we gave our followers a sneak peek of what goes on behind-the-scenes when shooting for new advertisements for our clients.
Leverage Twitter in Your Digital Marketing Plan
Social media marketing on Twitter is making a comeback! In 2016, eMarket4er predicted that Twitter usage between 2017 and 2020 would decline, but in 2018, researchers found that the number of daily users has actually increased by 9%. Twitter is a great way to get quick messages out about upcoming events or special offers, but it's also a platform that demands authenticity and witty remarks. Here are a couple of creative ideas so you can spice up your Twitter profile and attract more followers.
Live Tweet an Event or Special Program
Live-tweeting is like note-taking, only it's online and interactive. For organizers and attendees, live-tweeting has become the norm, and many event organizers have begun to assign a person or even a team of people to run social media at their events, so it goes smoothly.
Live-tweeting has many benefits, like allowing event organizers to expand the event's reach, increasing engagement during the event, and connecting event organizers with potential collaborators or partners.
In order to run a successful live tweet campaign, make sure to choose a hashtag and promote it, even before the actual event begins. Make it short and sweet so users have plenty of characters left to tweet takeaways and quotes. Additionally, create tweet templates to save time during the event and get tweets out in real-time.
Twitter Chats are another great way to interact with your followers in real-time and show that you're an industry leader. Visit Florida usually hosts a Twitter Chat once a month. @DoOrlandoNorth takes this opportunity to enter the conversation and make interesting points about things to do in North Orlando.
Not sure what to tweet during a live event? Here are some suggestions:
Quotes from speakers
Highlights of the day
Photos of event activities
Bullet lists with action items
Short live video clips to give people a glimpse of what's happening
Post Content Highlighting Your Employees
Like giving your followers a peek behind the scenes, letting your employees take over your Twitter account for a day is a great way to make people feel as if they are an insider. Have your employees do 'A Day in My Life' segment where theme park operators show guests what it's like to work at an attraction.
Or have someone from your cast at your dinner theatre do an AMA tag, 'Ask Me Anything', and let followers get an intimate interaction with those on your show. You can expand on this idea and ask followers to send in questions for a cast interview. Be sure to advertise when the interview will go live and build suspense so your audience will tune in.
Social media isn't just about sharing post after post, it's about communicating with your audience and engaging with them, so they feel like a part of your production. Make sure that you're interacting with your audience, not just speaking to them. Any business within the tourism entertainment industry can be a lot to juggle while trying to reach the right customers, talent, distributors, and other audiences. Let our team take care of the digital marketing aspects, and let you focus on the things that really matter.