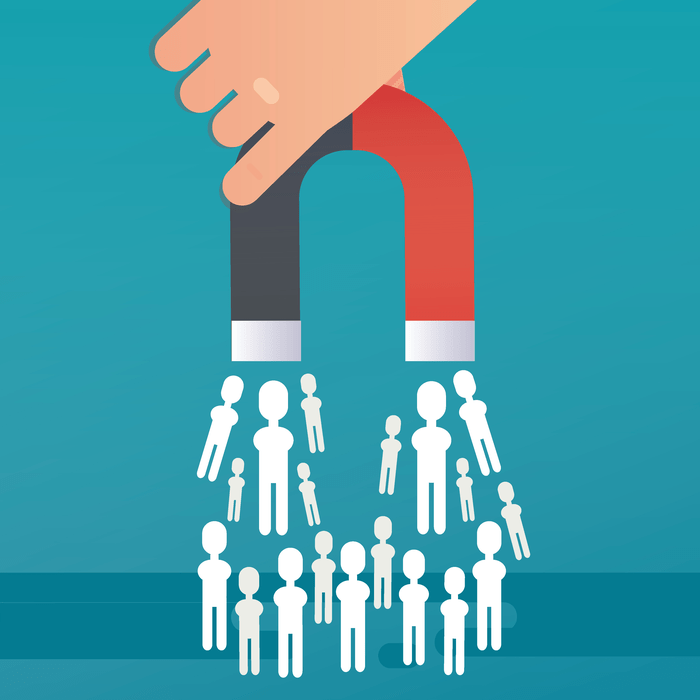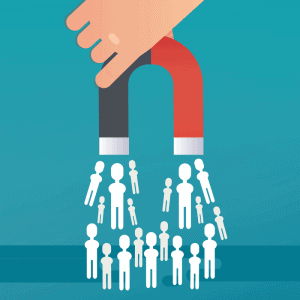 Credit Union Marketing Strategy Updates: 3 Current Lead Generation Trends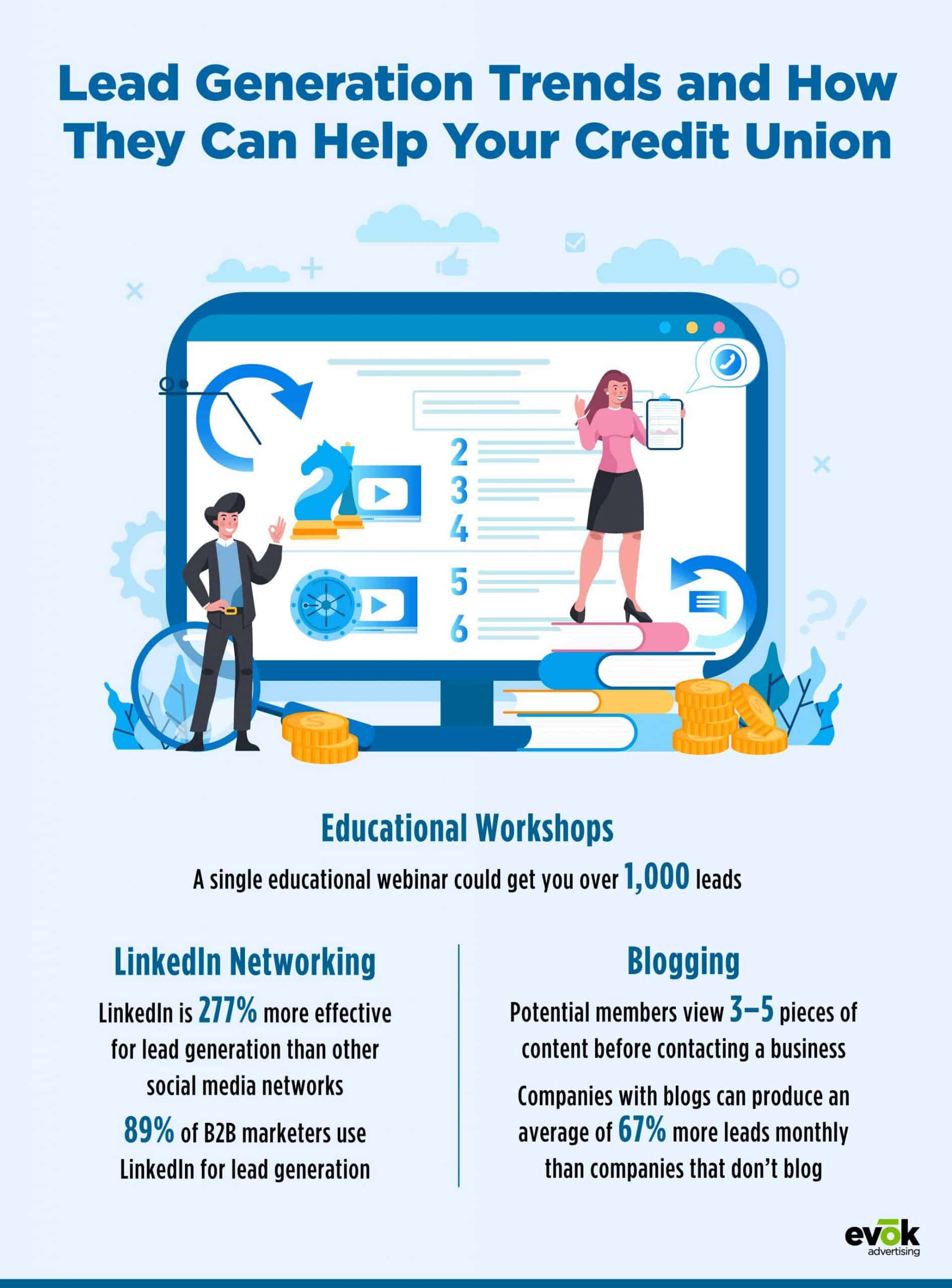 Lead generation is a big deal for credit unions. We've previously shared tips on bridging the generational gap and leveraging social media marketing as a means of lead generation in the financial industry. But consumers are continually changing, so our lead generation strategies must also change. We've compiled updates of the top 3 lead generation trends that can help your credit union stand out and establish meaningful relationships that convert into members.
Update #1: Host Educational Workshops
While in-person events are on hold due to COVID-19, many financial institutions have turned to virtual educational workshops to continue providing value to potential members. There was a 330% increase in hosted webinars due to COVID-19, and the number of attendees more than doubled. As people have gotten more tech-savvy during the pandemic, they are more likely to continue attending these online workshops. By hosting workshops quarterly or bi-annually, you could be generating strong leads and authenticate your credit union's expertise.
Free educational workshops tend to draw larger audiences, but charging a small fee, though attracting a smaller crowd, provides stronger leads as attendees are ready to invest in their financial journey. Either way, guests provide you with their contact information upon registering, making them great leads for potential members and opens a doorway for further communication.
Consider hosting an online webinar on "4 tips to launch your financial journey." Don't forget to let attendees know that they can reach out to your credit union for a private consultation with one of your experts.
"As an incentive for signing up for the webinar and attending, provide an online guide at the end of the webinar with tips, budgeting tools, and an editable spreadsheet that people can download to help work on their debt elimination strategy."

Cheryl Parker, VP, Client Services at Evok Advertising
Update #2: Establish a Blogging Presence
You might have noticed that organizations in every industry seem to have a blog these days. Financial institutions are no exception. Blogging is an excellent lead generation strategy when done correctly. Research has shown that users view between 3-5 pieces of content before contacting a representative. Take advantage of these views and establish your authority in financial planning through helpful and informative blog posts.
Provide budget-planning tips during the back-to-school season, or provide suggestions for financially-savvy holiday gifts for friends and family. Don't forget to add a call-to-action at the end of your blog encouraging readers to make an appointment with a personal banker or walk-in at a branch to find out how your financial brand can help them find financial freedom.
Not sure how to come up with engaging, lead-generating topics? We can help you get in front of your target audience and acquire leads that benefit your sales funnel.
Use Your Blog to Build an Email List
Blogging can help boost your email marketing campaign by collecting email addresses while providing value in return to your subscribers. Offering free tools is a great way to inspire readers to join your email list.
Consider offering content such as:
Videos
Helpful guides
Interactive calculators
Newsletters
Online webinars
Update #3: Leverage the Power of LinkedIn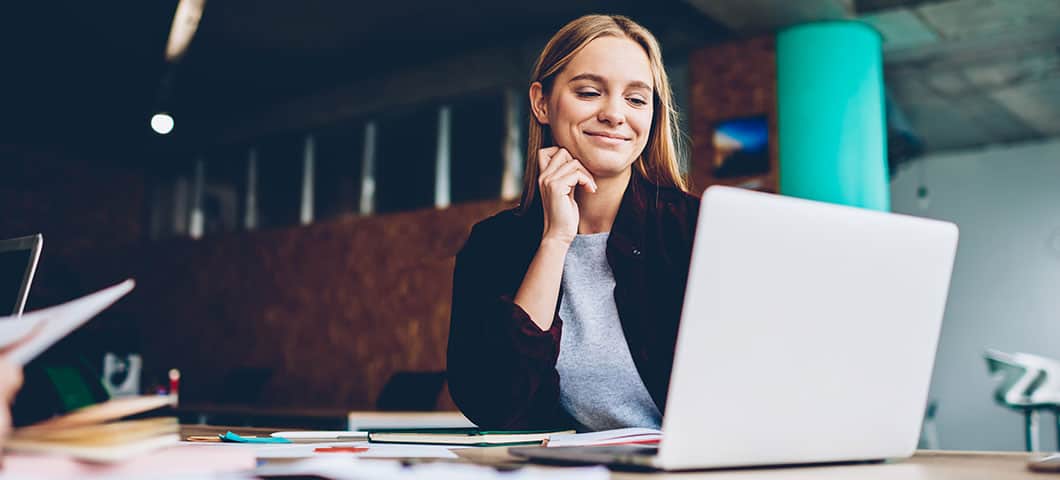 We live in an age where every marketing team knows the benefits of social media marketing, but many financial institutions neglect the power LinkedIn holds for lead-generation. Many business owners and high-net-worth individuals use LinkedIn as a tool to look for trustworthy financial services. LinkedIn provides your marketing team with the opportunity to build relationships with potential members by congratulating them on their career achievements or leverage mutual connections to land introductions.
But don't stop there. Encourage your associates to spend a few moments of their workday on LinkedIn and make personal and meaningful connections. By engaging authentically with individuals on LinkedIn, your associates will be able to generate leads that can increase conversion rates instead of merely having your brand reach out.
"It's important to have an integrated marketing strategy plan to grow your membership. These three lead generation trends can be added into what you are already doing or be substituted in for tactics that may not be providing a big ROI."

Cheryl Parker, VP, Client Services at Evok Advertising
Different strategies work for different kinds of consumers. Play around with each of these trends and see which one works best for you and your financial institution's target market. Do you feel like your credit union's lead generation strategies out of date after reading this article? Like the ideas we gave but aren't sure how to implement authentically and effectively? We would love to help you navigate through all things lead generation!