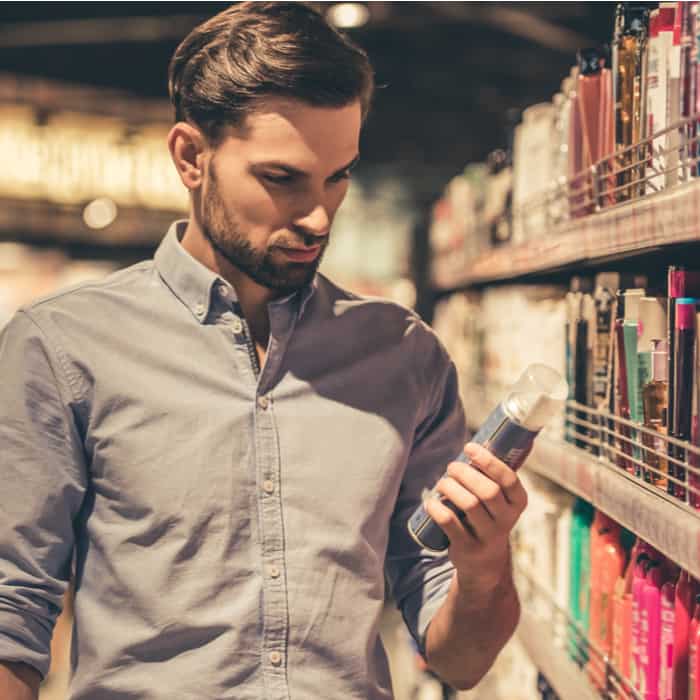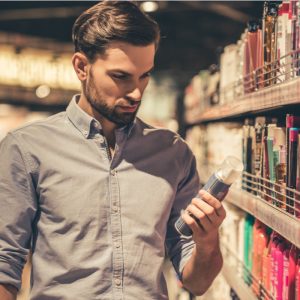 Do You Really Know Your Customer's Journey?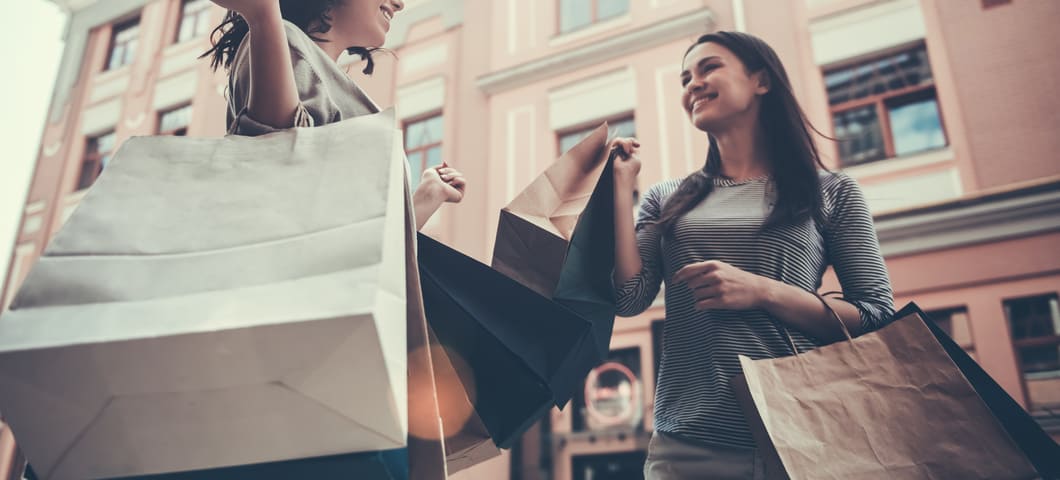 Now more than ever, consumers want to be making the right purchases—and they know that getting the right answers takes a little bit of studying. The age of information has put unlimited knowledge at consumers' fingertips, changing how they find information, interact with brands and buy products. Say goodbye to the predictable marketing funnel and welcome a new age of buying (and selling).
"Marketers can no longer map out which steps each consumer will be taking along his or her journey to conversion because a million new shortcuts and detours open up every single day," shares Heather Glenn, senior account manager and CPG category captain at evok. "The new customer journey is more unpredictable than ever, but you can make sure that your brand is a part of the journey no matter where the road takes them."
The New Customer Journey
Consumers don't like being fit into a mold–and especially not a funnel. Today, people aren't following a linear path from awareness to consideration to purchase; they're molding their own path each time they start the buying process.
The modern buyer's journey begins with self-evaluation and education. In fact, it has been estimated that 57% of the buying process is complete before consumers even interact with a salesperson or visit a store. Before entering a store, a consumer will usually have already done background research by studying a brand on social media, reading their reviews online and browsing their website.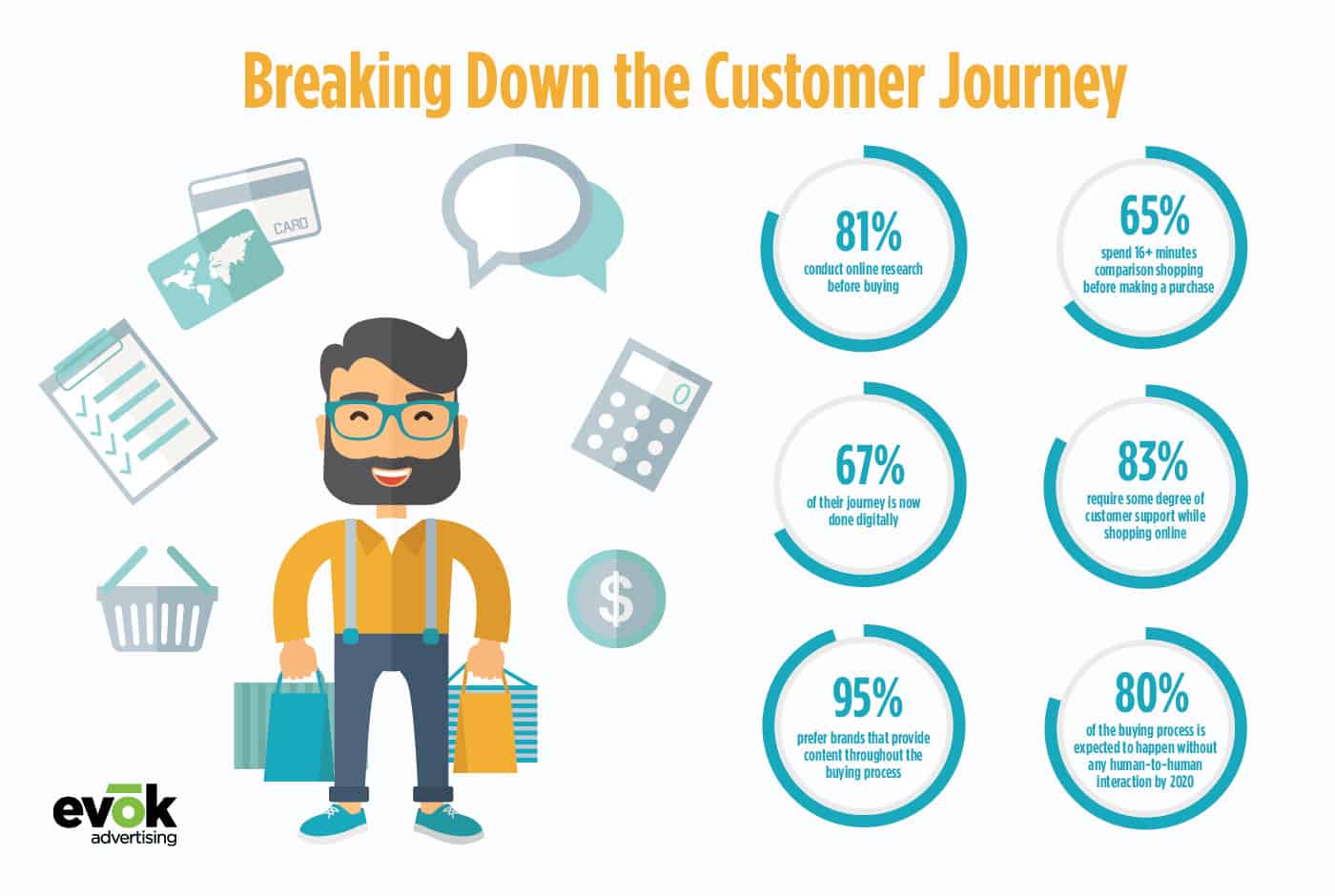 According to Forrester, 74% of business buyers say they conduct more than half of their research online before making an offline purchase, and this research can be substantial. Follow the clickstream of any modern buyer and you'll probably run into narrowing and broadening search terms as they decide exactly what they need. Consumers conduct extensive brand comparisons to find out what makes one product more suitable than another and they even tend to continue this research after a purchase has been made.
Consumers don't just want to know that a product exists—they want to know every product that compares and why each feature matters. There is a higher level of product research leading to a purchase than ever. Is your CPG brand providing the resources needed for consumers to make the decision you want?
What a Changing Customer Journey Means for Marketers
Content rules, but the rules have changed
Consumers keep your business in business, so your content needs to be consumer oriented. Gone are the days of publishing promises without proof and lessons without relevance because consumers want creative transparency, and they want it now.
Not long ago, it was common for marketers to use former journalists to create any content necessary, but consumers have caught on and stopped responding to generic assets. The buyer's journey is no longer about lifting the veil on undiscovered products and making a blind purchase; it's about researching every product, brand and category. The tables have turned on traditional CPG advertising, and the more someone can research your products, the more it can help them want to purchase your products.
Of course, you'll need to create content for every step that a buyer might make in their journey to conversion, but content marketing isn't just about creating and sharing as much content as possible. It's about creating quality content that allows you to be the best answer, whenever and wherever your audience is searching. Original content suited to your brand and your consumers is the most effective way to guarantee that you'll be along for the ride through the journey.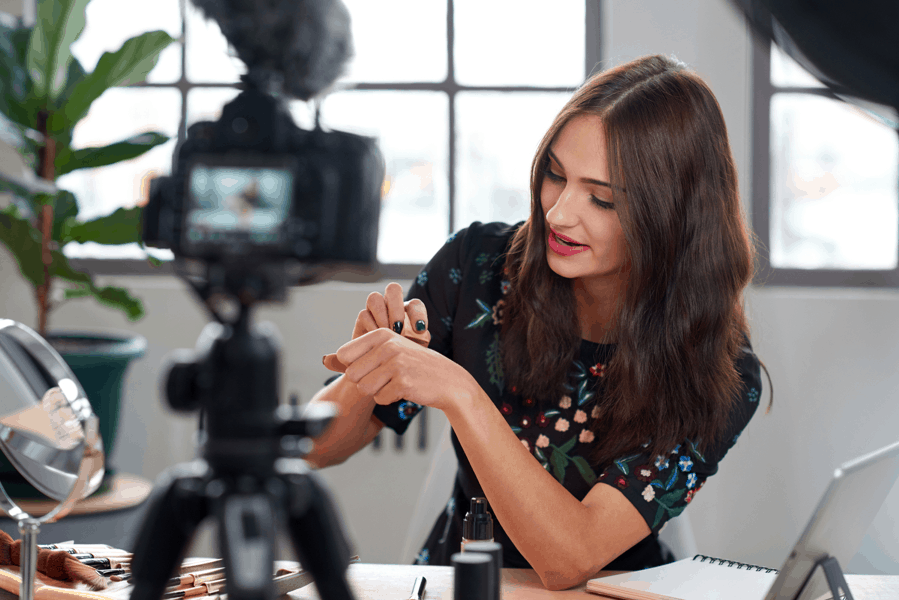 The importance of influencers
Many consumers no longer feel the need to physically hold the product or test it out because their favorite influencer has already done it for them. They can hear every detail about its color, touch and typical first impression from someone they trust, even if they don't know them.
Influencers and "everyday people" sharing their thoughts on a product are more trusted than messaging that comes directly from brands. Whether it's a blog review, unboxing video or live-streamed haul, customers are looking for any form of content from a reliable source to help them make purchase decisions.
Using influencers to promote your products can be one of the most significant strategies to inform the exact audience you're targeting, but you've got to work with the right influencers. This means their values will align with your brand's and their primary platform is one in which you are interested. The content they use most should be one that your target audience frequents as well. For example, if your audience responds well to video content, you should partner with an influencer who produces a ton of respectable video content.
You'll also have to consider which type of influencer is best for your CPG brand. Is your product aimed at a specific sub-culture or are you trying to reach families across the globe? These questions determine whether you'll want to consider micro-influencers who reach your finely targeted demographic or celebrity influencers who have millions of followers around the world.
Numbers count, but it doesn't take 100,000 followers to make someone's opinion valuable. Don't overlook the ability to influence organically. Trust in the reviews of the consumers who have met you at the end of the journey and encourage existing customers to share their opinions of your products online. One way to do this is by creating branded hashtags that users can post to on social media or putting prompts to share reviews/photos right on product packaging, on product inserts and on your website.
Don't let the journey end
Nearly 40% of consumers are likely to make repeat purchases from an online merchant with premium packaging, so be the gift that keeps on giving by creating a branded packaging experience. This experience includes everything in and on the package you'll be shipping your products in.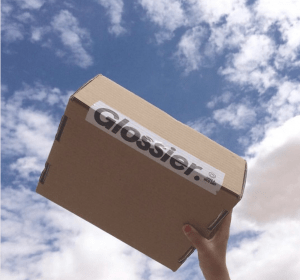 Whether you're exclusively e-commerce or operate a fully functioning website in tandem with your brick-and-mortar locations, you're going to be shipping a lot of products. Shipment packaging was designed to protect items while they're in transit, but some brands are now using it as another step in the branding process. As consumer habits shift, delivering a complete brand experience no longer lies in the product itself—it transcends the whole experience.
Brands like Glossier have branded their shipments so that they're enjoyable before and after you've dug into the box. To make the experience more entertaining, pay special attention to details like the color of the box and the tape you use to seal it. Wrapping items in tissue paper sealed with a sticker with your company's logo can make the unboxing experience something worth making a purchase alone. You can easily add some branded flare to those brown boxes and encourage consumers to remember what makes your brand different.
Accepting the modern journey is the first step in becoming a part of it, and if you want to succeed, you've got to know how to play the game. Whether consumers want to go for a joy ride or need to get from A to B as fast as possible, you'll need to be the reliable option that stands out among the rest they'll run into during their buying journey.