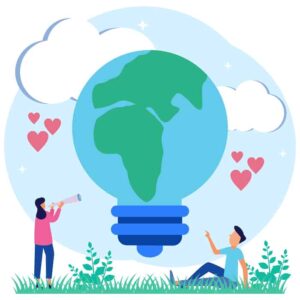 CPG Retail Brands Zero-In on Sustainability to Amplify Consumer Demand
There's a CPG marketing trend that is experiencing 5.6x faster growth for categories that are implementing it versus those that aren't–and it's safe to say that Millennials and Gen Z have a big voice in the movement.
Sustainability has taken the industry by storm, showing that 81% of global respondents feel strongly that companies should help improve the environment, while nearly half of American consumers say they would change their consumption habits to reduce their impact on the environment. The time is now for CPG brands to take action and pivot the process to incorporate sustainability efforts. Here's what you need to know about sustainability's effect on CPG brands, and what you can do to get started.
Why Does Sustainability Matter in CPG Marketing?
The consumer packaged goods industry has taken on next-level growth over the past few years. As consumer demands evolve, CPG brands are continuously innovating products and services to keep up with the ever-growing needs. With that said, sustainability has taken the forefront of consumers' minds more than ever this past year with the current state of the world. The coronavirus crisis has shined a light on personal health, as well as the overall impact human effort can have on the environment.
However, incorporating an eco-friendly operation isn't just an overnight solution. Consumer packaged goods companies face the significant challenge of fulfilling short-term needs for a long-term goal. The industry must meet these challenges by implementing a sustainable-forward strategy through a holistic approach while considering the impact on health and wellness, as well as the economy. But it's been shown that CPG brands that are jumping on this trend are not only cutting down on their ecological footprint and long-term costs but are also meeting customer demands, ultimately resulting in a competitive edge in the market and an increase in sales.
Consumers Choose Connectivity
A silver lining to 2020 was the increase in connectivity among consumers. This new level of connectivity is not only applied to their health concerns, but also to the environment at large. The urgency to remain healthy during the pandemic has encouraged consumers to shift their focus toward sustainable home care products, whether within the ingredients, packaging, or both. And with Millennials and Gen Z leading in both influence and spending power, it's up to brands to respond to their demands or get left behind.
But it's taking more than just slapping a sticker labeled "eco-friendly" on packaging to convince these generations that your brand prioritizes sustainability. They are demanding authentic and actionable messaging and visuals that prove a brand's commitment to the health and safety of consumers as well as the environment. This means that sustainability efforts need to go beyond just the manufacturing of the product, it needs to be embedded into the heart of your brand and business operation.
How Can Brands Present Sustainability Efforts?
Brands that adopt sustainability as a core strategic pillar already have a leg up in the CPG marketing space. That's because modern consumers are drawn to products that are not only a good match for them, but also to the world around them. This means that brands must strengthen the emotional connection with their consumers through environmental efforts. Here are a few ways consumer packaged goods can authentically market their sustainability values.
Be Transparent – Transparency can help increase consumer trust. Many brands like Vans have developed a digital traceability tool that gives consumers direct access to their supply chain and production process.
Give Consumers First-Hand Experience – Studies show that Millennials value experiences with their favorite brands. By hosting events, brands can build awareness for their cause while allowing consumers to be part of the bigger picture.
Offer Educational Content – Consumers want to help support their favorite brands, but in order to do that, they must know how. A simple way to present quick, digestible information about your brand's sustainability efforts is through a video series or a social media campaign.
Zucchi: The World's First Certified-Sustainable Olive Oil
Working closely with sustainable-forward CPG brands, our team has first-hand experience and expertise on what it takes to resonate with the right consumers. From crafting messaging that speaks to each audience segment to developing strategies that convert seekers to customers, we've helped CPG brands drive sales and reach bottom-line goals.
That's exactly what we did for our client Zucchi, the first certified sustainable extra virgin olive oil in the market. As a brand dedicated to crafting the highest quality, best tasting olive oils sourced from local growers, their mission is to protect the planet by sourcing premium raw ingredients with the highest code of ethics.
But how do you market your sustainability efforts as your USP and prove it? Our development of Zucchi's new website ensured that the overarching design and user experience focused on the brand's mission and values without losing sight of the high-quality product itself. This meant positioning the copy and visuals to depict the importance of sustainability, the impact on the environment, the surrounding communities, and the health aspect, all while selling the product as the better option among leading competitors.
The new website allows users to learn about Zucchi's sustainability efforts, trace their unique bottle by entering a serial code, discover new recipes, and more. While the new website is pending launch, you can check out their current site to learn more about Zucchi and its four pillars.
The sustainability movement is causing big disruptions to the CPG industry. As brands are challenged to reinvent the production process to meet consumer demands, marketers are similarly challenged to position brands as an impactful force in the movement. While food waste, global footprint and efficiency are common obstacles for the industry, there's no doubt that sustainability has become top priority for many companies. After all, nearly 80% of respondents to a recent survey reported that they will be prioritizing action on sustainability over the next two years, making now the time to implement a long-term solution in preparation for long-term success.